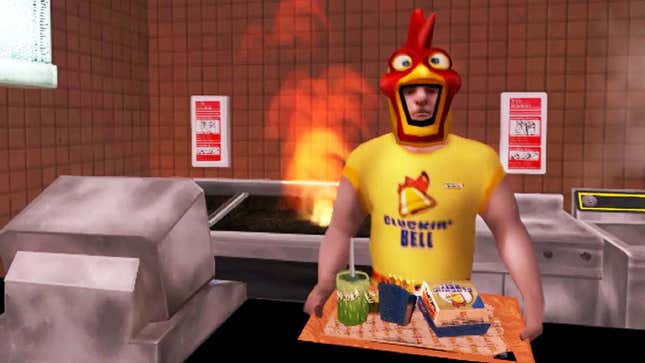 Two unofficial pop-up restaurants based on fast food chains that have appeared in past Grand Theft Auto games were planned to open next weekend in San Diego, just in time for Comic-Con. However, that reportedly won't be happening anymore after Take-Two Interactive, the parent company of Rockstar Games, sent the company behind the restaurants a cease and desist.
Grand Theft Auto 6 Comments: A Dramatic Reading
In 2004's open-world blockbuster, Grand Theft Auto: San Andreas, players can visit a few different fast food joints that are directly inspired by real-world brands, including Cluckin' Bell (a parody of KFC and Taco Bell) and Burger Shot (a parody of Burger King). These same parody eateries would later appear in other GTA games, including Grand Theft Auto V.

However, last year, one of these fake in-game chains, Cluckin' Bell, became temporarily real when a pop-up version appeared near the San Diego Comic-Con convention. People made videos of the place and its uniforms, decorations, signs, and menus, all of which were directly inspired by the GTA games. And none of this was officially approved by or connected to Take-Two Interactive or Rockstar Games. And this year, the same people behind that fake fast food location were planning on doing it again, and even adding a second GTA-themed pop-up eatery, too. But now those plans are dead after Take-Two's lawyers reportedly got involved.

On July 14, as reported by Rockstar Intel, the companies involved with the fake fast food locations—-Smokin J's BBQ and Las Vegas fashion brand boyworldwide—were sent a cease and desist letter from Take-Two. The companies had planned to open Burger Shot and Cluckin' Bell pop-up restaurants on July 20, just in time for Comic Con. But an email sent to Rockstar Intel by Smokin J's BBQ makes it clear that plans have changed.

Last Night, we received a cease and desist letter from the law firm representing Take-Two Interactive. In response, we have been forced to scrap the Burger Shot event that was planned for this weekend. (At Comic Con) We are still doing a Cluckin' Bell type installation next weekend, however, it is now going to be a spoof installation branded as Don't Cluckin' Tell.

Kotaku has reached out to Smokin J's BBQ. Take-Two Interactive declined to comment.
Of course Take-Two Interactive shut all this down
It's not surprising that Take-Two Interactive—a company that has repeatedly gone after GTA modders and content creators in the past—would use its legal team to shut down real-world restaurants based on GTA parodies.

It's likely that last year's Cluckin' Bell flew under the radar and by the time Take-Two learned of it, it was all over. But this year—with all the press surrounding the fast food locations and the addition of a Burger Shot—I'm assuming Take-Two was ready to act with a cease and desist letter the moment the companies announced their pop-up plans.

While I understand that some GTA fans are likely disappointed by the news, I can see Take-Two's side in this situation. Unlike fan mods, which didn't hurt anyone and shouldn't have been legally attacked by the publisher, an unofficial restaurant seems far more sketchy. A lot of people might just assume these places are officially approved by and connected to Rockstar. And if the food is gross or makes people sick, that could look bad for Take-Two and Rockstar, and would be a giant mess for all involved.

So it's probably better for everyone that plans have changed. I know GTA fans are hungry for more content, but come on.