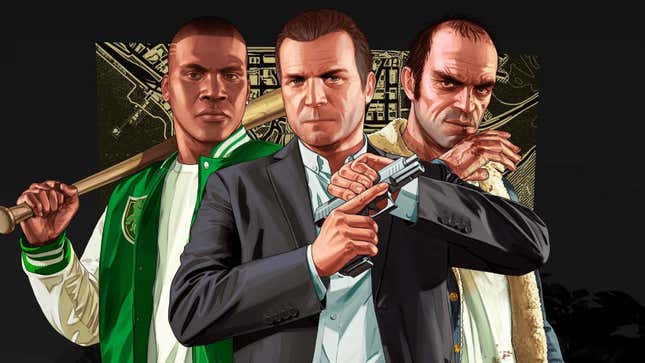 Grand Theft Auto V is one again crashing the party on Xbox Game Pass just in time for the summer vacation. It headlines the subscription service's slate of new games for July 2023, alongside some smaller indie releases and Capcom's new dino-shooter, Exoprimal.
Thank You, PS Plus, For Making My Backlog Even Bigger
GTA V on Game Pass includes both the Xbox One and "next-gen" Xbox Series X/S versions, and is available on both console and streaming over the cloud with touch controls if you're on mobile. PC Game Pass subscribers, unfortunately, are out of luck. Also, while the game is available starting today, who knows how long it will stick around for. This is the best-selling open-world game's third tour on the service, with it's last one in 2022 lasting just under five months.
Read More: The Best Xbox Game Pass Games To Check Out And Play In 2023
Still, it's great timing for anyone on Game Pass who hasn't yet finished playing through the trials and tribulations of Michael, Trevor, and Franklin. That's both because July is a relative dead zone for big new releases, and also because Grand Theft Auto VI appears poised to drop as early as mid-2024. That's over a decade to catch up on one of the biggest games of the last decade (and lastthree console cycles).
Coming to Xbox Game Pass in July 2023
Outside of GTA V (and Sword and Fairy: Together Forever which also arrives today), there's six other games coming to Game Pass in the weeks ahead, as well as some hefty expansions for games like Sea of Thieves. Here's the rest of what's dropping later this month:
McPixel 3—"mind-blowing save-the-day adventure that sees the titular wanna-be hero avert one disaster after another at every turn using unconventional yet entertaining methods of mayhem"; coming to console and PC on July 6

Common'hood—"a squatter settlement simulation game with highly customizable base building tools"; available to play on cloud, console, and PC on July 11

Insurgency: Sandstorm—"Battle in the war-torn environments of a contemporary conflict through a series of intense co-op and PvP multiplayer modes"; play it on PC June 11

Exoprimal—"Squad up and take down hordes of dinosaurs in a series of endless wargames run by the artificial intelligence Leviathan"; available on console and PC day one on July 14

Techtonica—"Work alone or in co-op to master automation, gather resources, research new technologies, mold the destructible terrain, establish a base of operations, and uncover long-forgotten secrets."; available on console and PC via game preview on July 18

The Cave—"Assemble your team of three from seven unlikely adventurers, each with their own unique personalities, and then descend into the mysterious depths."; available on console and PC via game preview on July 18

What's leaving Game Pass this month?
The following games will get dropped from the free library starting July 15. Until then you can buy them for 20 percent off:
Exo One (Cloud, Console, and PC)
PAW Patrol The Movie: Adventure City Calls (Cloud, Console, and PC)
Spelunky 2 (Cloud, Console, and PC)
If you haven't already sunk dozens of hours into one of the best roguelikes ever, don't sleep on Spelunky 2. It makes a good thing even better.