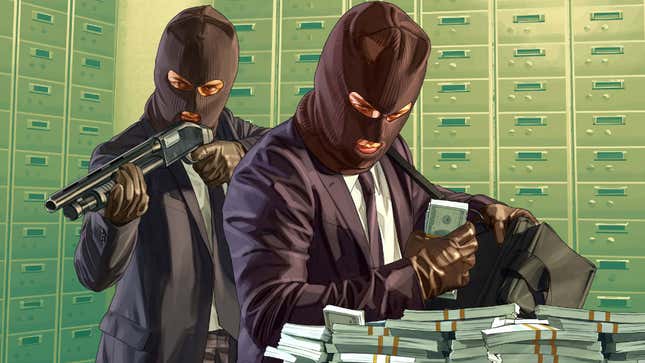 Grand Theft Auto VI, the next entry in the popular open-world franchise from Rockstar Games, might be coming out as soon as next year based on some big numbers found in a new earnings report.
Nintendo Showcase Standout Gunbrella Has The Best New Video Game Name Of 2022
It's not news that Rockstar Games is working on the next entry in the GTA series. The company confirmed this last year. And then in September 2022, the infamous GTA VI leak happened, revealing a ton of details about the still-in-development game. But while we know the game is real, is in development, and is likely set in Florida, we don't yet have a release date for the much-hyped sequel to Grand Theft Auto V. What we might finally have, however, is a release window thanks to a new Take-Two earnings report released on May 17.

In an accompanying press release from Rockstar's parent company Take-Two Interactive, the publisher predicted a massive increase in sales in its upcoming 2025 fiscal year which starts in April 2024. Specifically, it anticipates over $8 billion in net bookings. It also expects to continue this "momentum" into its fiscal 2026. Here's the key bit from the press release:
We believe that we will enter our next phase of growth in Fiscal 2025, as we plan to deliver several groundbreaking titles that we anticipate will set new standards of quality and success and enable us to deliver over $8 billion in Net Bookings and over $1 billion in Adjusted Unrestricted Operating Cash Flow. We expect to sustain this momentum with additional growth in operating performance in Fiscal 2026.
As pointed out by IGN, this is a pretty bold prediction of the company's next two fiscal years considering that Take-Two's last fiscal year net bookings hit just over $5 billion, which is one of the highest in the company's history. This was fueled not by a bunch of big games doing well, but instead by Take-Two's purchase of mobile games giant Zynga, which it bought in 2022 for over $12 billion. Before it owned Zynga its net bookings were hanging around the $3 billion range.

Take-Two is expecting something huge in 2024
So Take-Two must be expecting something very big to be able to break its previous high record, which itself only happened thanks to a historically large acquisition. There aren't many video game franchises that can bring in that kind of cash beyond something like Grand Theft Auto or more specifically, the highly anticipated sequel to GTA V, one of the best-selling games ever made. Yeah, that might be big enough to move the needle to $8 billion or so.

Of course, to be clear: Nowhere in this press release, its related earnings report, or its call with investors after the report was released did Take-Two specifically say "Yeah, GTA VI is coming out in 2024!"

When the company's CFO Lainie Goldstein was asked if the 2025 numbers were based on upcoming game sales or would be earned via older titles or microtransactions, she demurred, saying that the company wasn't "talking about what the detail of that is at this time."

At another point in the call, CEO Strauss Zelnick dodged giving a specific answer about why they were predicting such a huge next two years even as so many games are being delayed. In response, the CEO said the company now has "a great deal of confidence that that pipeline will be delivered in the next three years." Whatever that means!
Kotaku has reached out to Take-Two about its earnings report.
If it seems like Take-Two Interactive is both trying to convince folks it's going to have a huge next year while also trying to not say why, that's because…yeah, that's exactly what we think is going on here. A lot of winking, nudging, and smiling, but never saying what seems likely: Grand Theft Auto VI is possibly coming out sometime next year.