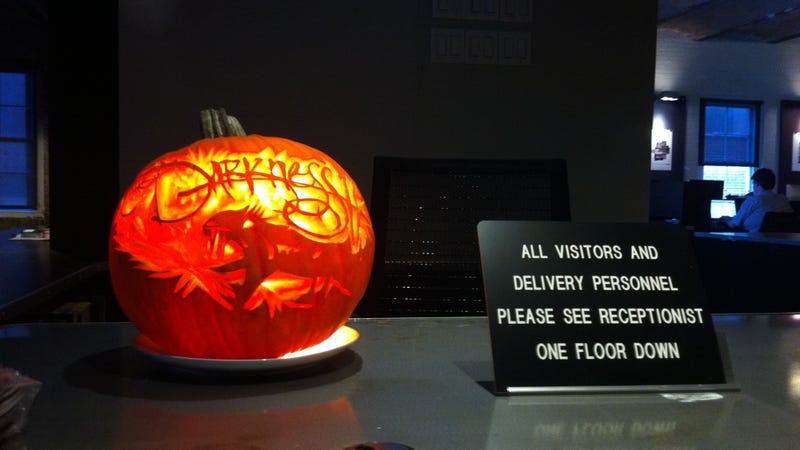 It's Almost Here -Halloween is coming. We have the year's first game marketing pumpkin to prove it. Which dev wants to prove they can out class The Darkness II pumpkin?
Battlefield 3 was one of my most anticipated games of this fall. It is the latest iteration in a long-line of beloved shooters from a team of developers who know what they're doing, but I also love a good fight. More »
---
Feast your eyes on the grown-up laughing young daredevil as he throws down on the thugs of Arkham City. The clip highlights his specialized weaponry and shows off his acrobatic fighting style, too. More »
---
I'm in the middle of playing the new Infamous: Festival of Blood DLC, which gives series hero Cole McGrath all sorts of new powers by virtue of his getting in turned into a vampire. More »
---
A decade ago, Rockstar Games was trying to be funny.
Starting in February of 2001, all the way to the 18th of October, just before the most important game release in their company's history, they were trying to make people laugh about Grand Theft Auto III. More »
---
The creators of the enjoyable open-world Infamous games nto their super-hero cities. They've done it before, and, hey, we like when developers make jokes.
So cheers to the Infamous development studio Sucker Punch for taking a gentle jab at Call of Duty: More »
---
No matter how many previews, gut check and reviews you load up with, buying any game comes down to taking a risk with your hard-earned money. Mainstream games can tell you that they're chock full of content by citing hours of playtime, DLC plans or multiplayer features. More »
---
One of the PS3's best franchises gets an infusion if fresh blood this week with the Infamous: Festival of Blood DLC. The standalone add-on changes things up considerably for Cole McGrath, turning the lightning-throwing hero into a bloodsucking vampire. More »
---
PixelJunk SideScroller is a 1980's style arcade game made for the 26th-century. It's a side scrolling-shoot-em-up that exceeds in everything it attempts to pull off.
Between the style, the smooth controls and the soundtrack, PixelJunk SideScroller is everything I could have asked for in a... More »
---
Streaming site Vimeo makes space for lots of different kinds of content. They've made a name for themselves as a cooler alternative to YouTube and you'll find cool mini-documentaries, visionary music videos and intensely personal narratives.
However, one thing that become increasingly difficult to... More »
---
We've got this massive three-screen Nvidia set-up sitting in the offices at Gawker. It's only visiting, so we're making the most of it. Today that means a lot of W-I-D-E-S-C-R-E-E-N Battlefield 3 gaming.
Here's a quick montage of what some of the vehicles look like when played super-sized. More »
---
We like tips!
Got tips for our editors? Want to show the world your latest creation? Ready to anonymously share an unannounced game? Email us at tips@kotaku.com. Or leave us an anonymous voicemail at (612) 568-2581.
Want a different layout?
Click here for the Speak Up or Tips forums. Want a more "blog-like" look? Click the button up top next to "Top Stories."
Get more Kotaku!
Want even more Kotaku? Want to know which of your friends read us? "Like" us on Facebook and follow us on Twitter.