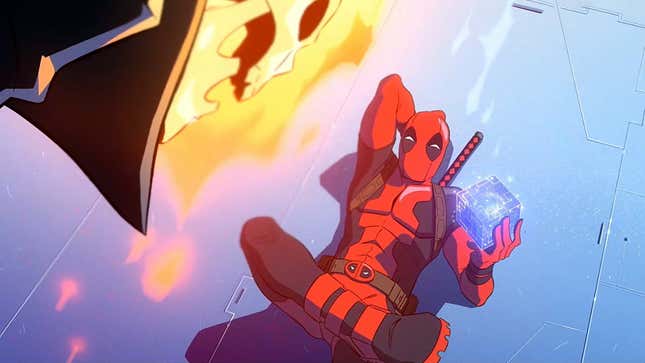 Gamescom, the massive annual gaming event held in Cologne, Germany, just streamed its glitzy Opening Night Live presentation, giving us a closer look at tons of coming games, many of which are are just around the corner.

Cyberpunk 2077's Phantom Liberty DLC Probably Won't Change V's Fate
But if you missed it, no worries: We're here to run through everything they showed. So grab a coffee and start scrolling for more game trailers than is probably healthy to consume.
---
Starfield
Prefaced by a performance from the game's composer, Starfield got a snazzy, live-action cinematic trailer. Starfield launches on September 6, 2023 for Xbox Series X/S and PC.
Read More: Get Ready To Clear Your Disk Space For Starfield

The game's producer, Todd Howard, then took to the stage shortly after, um, a brief interruption. Howard described Starfield as a kind of "dream game" for Bethesda, citing the massive scope and ambition of the studio's new franchise.
---
Ara: History Untold

Ara: History Untold showed off some alt-history-spanning strategy with a new trailer ahead of its release next year.
---
Age of Empires IV: Anniversary Edition

Age of Empires IV received a feature-focused trailer along with the announcement that it's now available on Xbox Series X/S.
---
Alan Wake II

Gamescom Opening Live this year showed off the final return of Alan Wake, not just the game, but the character. The long-awaited sequel features two protagonists, but up until today, we hadn't seen gameplay featuring the titular character himself. The trailer also showed off fully integrated live-action footage existing within the very game itself to emphasize the twisted, nightmare-like nature of this world. It's pretty trippy stuff!

Read More: Alan Wake 2 Spooked By October Games Onslaught, Delayed 10 Days

Alan Wake II's release date was recently pushed back by 10 days to October 27.
---
Armored Core VI: Fires of Rubicon

The legendary mech series from Dark Souls dev FromSoftware is about to make its big comeback. Armored Core VI will launch on August 25.

---
Assassin's Creed Mirage
With gameplay that looks more in tune with the original Assassin's Creed than more recent entries, Mirage got a narrative trailer at Gamescom this year showing off the sights and sounds of Baghdad. The game will feature full Arabic voice acting as well, which is quite the improvement over the very jarring voice of Altair in the original game.

Read More: Surprise: Next Assassin's Creed Game Launching A Week Early

Assassin's Creed Mirage recently saw its release date moved up (what a thing!) to October 5.

---
Black Myth: Wukong
Anticipation's been running high for Black Myth: Wukong, and we're sure today's new trailer will only keep the hype alive for this wild-looking Chinese action-RPG.

Read More: Wuxia Martial Arts Game Looks Slick As Hell
The new trailer showed off some intense snippets of gameplay with a few epic-looking foes.

---
Call of Duty: Modern Warfare III

Modern Warfare III got a new trailer showing off some new campaign gameplay, the story for which is expected to pick up right after the events of Modern Warfare II.

Read More: Call of Duty: Modern Warfare 3 Will Bring Back Every OG MW2 Multiplayer Map
The devs also talked a bit about the new "Open Combat Missions" which aim to expand the Call of Duty experience a bit more with customized loadouts and more open environments. While the main feature was a 10-minute-long traditional cinematic trailer, some footage of the Open Combat Missions showed off a few different ways to take on threats.
---
The Crew Motorfest

The Crew Motorfest showed off more of its flashy cars. Its expected to launch on September 14, and for three days after launch a five-hour free trial version will be available.

---
Crimson Desert
The drought of information on Crimson Desert ended at Gamescom today with a new trailer showing off gameplay from the upcoming action-RPG. The action looks pretty sick and expansive with an epic-looking world but, most importantly, you can pet the dog. (And carry a sheep, apparently.)

Oh, and it's 2023, so you know there's fishing. Haven't you always wanted to go to a fantasy realm to catch a fish or two?

---
Cyberpunk 2077: Phantom Liberty
Cyberpunk 2077: Phantom Liberty got an intense trailer focusing on expanded and revamped features expected to hit the sci-fi RPG on September 26. New abilities, vehicles, and an overhauled Perk system, it all looks rather...preem.
Cyberpunk 2077 is also expected to get a 2.0 update for the base game that will be available on current-generation consoles and PC.

Read More: Hands-On: Phantom Liberty Is What Cyberpunk 2077 Wished It Could've Been

Recently, Kotaku got some hands-on time with Phantom Liberty, and its ambitions are running high. The expansion will bring some exceptional changes, and will even continue your Night City tryst.
---
Dustborn

Dustborn looks set to tell the story of a bunch of degenerates ready to hit the road and play some music in a world in sore need of some help. I'm very down.
---
Diablo IV: Season of Blood

See, I thought the next season of Diablo IV would just be about everyone spreading joy and love in Sanctuary, with like flowers and songs and shit. Well, I was wrong. Diablo IV's second season got a new trailer at Gamescom and once again you'll be summoned to help mitigate the horrific horrors of its dark fantasy world.

---
Genshin Impact

Genshin Impact's beloved music is hittin' the road with a concert tour. Dates include Singapore, Boston, Guadalajara, Los Angeles, New York, Seoul, and more.

---
Granblue Fantasy Relink

JRPG Granblue Fantasy received a rich narrative trailer with various examples of gameplay spread out in between snippets of character dialogue. The game is expected to land on February 1, 2024.
---
Expeditions: A Mudrunner Game

From the devs who brought you Snowrunner and Mudrunner, a new, open-world-y off-road experience is expected to land in 2024.
---
The First Descendant

An upcoming sci-fi looter shooter, The First Descendant showed off some fancy armor sets and guns plus some slick-looking gameplay. This game certainly has the graphics down.
---
Fort Solis
Fort Solis, which is out today, saw Troy Baker, Juliette Brown, and Roger Clark hit the stage to tell a story about...Troy Baker's butt? Ya know, I'd rather not know about that, thanks.

---
Honkai: Star Rail

Honkai: Star Rail got a premiere trailer ahead of its expected PS5 release.
---
Immortals of Aveum
Gina Torres stars in Immortals of Aveum, this new magic-based first-person-shooter that launched today...though PC-players might be in for a rough ride.

---
Killing Floor III

Killing Floor III also got a suitably gory and brutal trailer during the event.
---
The Last Epoch
ARPG The Last Epoch got a dose of gameplay footage with a new trailer ahead of its release date in late September.

---
Little Nightmares 3
With a suitable creepy and moody reveal trailer, Little Nightmares 3 was announced with an expected release window of 2024. Lucas Roussel and Coralie Feniello discussed some of what players can expect from the latest entry in the series.
---
Lords of the Fallen
Lords of the Fallen saw a new story trailer for the upcoming Soulslike action-RPG, and it looks just about as dark, gory, and medieval as you'd expect.

---
Marvel Snap

Today, Marvel Snap exited Early Access on Steam. Have at it.

---
Mortal Kombat 1
Mortal Kombat 1, the reboot of the long-running, famously brutal fighting game franchise, got a new trailer during Opening Night Live.

Read More: Hell Yeah, Mortal Kombat 1 Makes It Easy To Do Fatalities

Mortal Kombat 1 is expected to go all in on the fatalities, featuring easier ways of executing them to dice your foes up into bloody little pieces. Y'know, if that's your bag.

---
Nightingale
With a wild and surreal setting, Nightingale, the upcoming card-based survival game, saw a new trailer showing off a variety of environments, and gun-based combat against some brutal foes.

---
Payday 3

Ice-T delivered a quick message to talk about some of the upcoming heists in the latest entry for the multiplayer crime sim.
---
Sonic Frontiers: The Final Horizon

Sonic Frontiers: The Final Horizon got a brief teaser showing off new story beats and playable characters.

---
Sonic Superstars
Sonic Superstars got a speedy new trailer showing off vibrant environments in co-operative and competitive game modes. It's very cute.

---
Stormgate

Stormgate, an online PvP, RTS game saw some of its gameplay showed off via a new first-look trailer.

---
Rebel Moon

Zack Snyder joined Keighley on stage to talk about his upcoming science-fiction film as well as announce a video game set in the movie's universe.
---
Tekken 8
Tekken got a new trailer showing off a new arcade simulation mode for the ongoing fighting franchise.

---
Under the Waves
Ahead of its August 29 release date, Under the Waves got a new trailer showing off its deep environments and, perhaps, even deeper emotional narrative.
---
Warhaven

A free-to-play melee combat game, Warhaven will hit Steam on September 20.

---
Zenless Zone Zero
The latest entry in the Hoyoverse, Zenless Zone Zero received a new trailer on the Gamescom ONL stage.

---
Thank Goodness You're Here!

Finally, adorable, hand-drawn-style game Thank Goodness You're Here! got a cute little trailer at Gamescom 2023.

---

And that's it for what we saw at Gamescom 2023's Opening Night Live. Which trailers caught your eye?