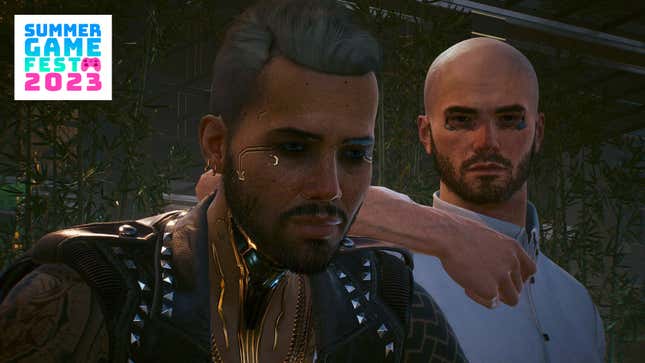 If you're anything like me, your favorite part about RPGs is the relationships you can make with characters along the way. This includes Cyberpunk 2077, because my favorite thing about doing crimes in CD Projekt Red's open-world action RPG is knowing my trash boyfriend Kerry Eurodyne is waiting for me in his big mansion on the cliffside overlooking Night City. As such, you might be wondering if those romances will play into the upcoming Phantom Liberty expansion. According to the devs, your Night City love story will continue, but the studio isn't ready to divulge details.

The Anime Series With Better Metaverses Than Meta, AKA Facebook
In an interview with Kotaku, Cyberpunk 2077 quest director Pawel Sasko and quest designer Despoina Anetaki said that while protagonist V will be focused on the situation happening in the new location of Dogtown—they've been given hope that there might be another way to save themselves from Keanu Reeves' AI taking over their body—the team has included some new romantic material in Phantom Liberty, too.
"There will be some content, but for the most part, it is a spy thriller," Anetaki said. "V's attention is in Dogtown because there is this whole thing about saving yourself through the storyline, but there will be some content like that."
The romances in Phantom Liberty
The developers were hesitant to get into specifics to avoid spoilers, but Sasko compared the DLC's new romancing to The Witcher 3's Hearts of Stone expansion, which unlocked additional dialogue with characters like Yennefer after it was completed.
"So we have included some connections in places where it made sense between the main game and expansion, but I don't wanna go into detail," Sasko said. "We tried to make it good. This is always our idea, you know, to just like, take care of the players that [enjoy those relationships]."
It sounds like while Kerry, Judy, Panam, and River might not be fighting by your side in Phantom Liberty, at least some aspects of those romances will get touched on in the expansion. Whether that's new dialogue or text conversations remains to be seen, however.
Phantom Liberty is coming to PC, PlayStation 5, and Xbox Series X/S on September 26, but it won't come to PlayStation 4 or Xbox One.
Read More: Cyberpunk 2077 Tips To Break Hearts, Romance Everyone After All The Updates
---
Kotaku is covering everything Summer Game Fest, from the main show on Thursday to other events happening throughout the next week. Whether you're into larger-than-life triple-A games or intimate, offbeat indies, you can keep up with all things SGF here.