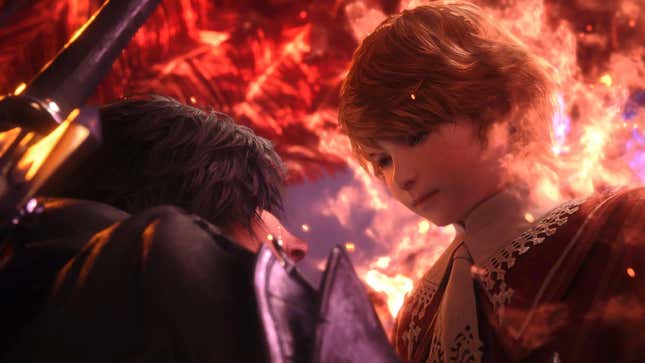 More new-gen exclusives are slowly starting to trickle out onto the PlayStation 5 and developers are now trying harder than ever to explain why they needed to ditch the PS4, and why it's worth making a game a console exclusive. Previously it was Guerrilla Games with Horizon Forbidden West's Burning Shores DLC which promises incredible cloud tech. Next up is Square Enix with promises that the PS5 DualSense controller will help you actually feel the wind in Final Fantasy XVI.
Hollow Knight: Silksong's New Gameplay Trailer Is Living Rent-Free In Our Brains
In a new interview over on the PlayStation Blog, director Hiroshi Takai tried to explain what the new hardware will bring to the hit RPG series that wasn't possible with the PS4. While the speed of the solid-state drive (SSD) remains the cornerstone of the PS5's (and Xbox Series X's) prowess, Takai said his team also tried to take advantage of the haptic technology in the DualSense to make Final Fantasy more action-oriented than ever before:
There are certain sections where the player will have to open heavy doors or lift up portcullises, and we use the adaptive triggers there to put across that feeling of effort and resistance. They're also used when riding chocobos. The haptic feedback can produce extremely subtle vibrations, which we use to create a heightened feeling of presence in cutscenes. We converted the sound effects used in each scene into haptic data, which let us portray details that we've never been able to before, like the movements of the air.
Read More: Final Fantasy XVI Producer Suggests PC Players Should Just 'Buy A PS5'
Personally, I don't much care for the DualSense's adaptive triggers, and haptics aren't usually top of mind when I'm looking down the list of new game features. But when they're good they're great, adding texture to a game you don't miss until your controller dies (which, unfortunately, the DualSense does a lot) and it's gone. Great enough to warrant Final Fantasy XVI being a PS5 console exclusive? Probably not!
DualSense features aren't the only reason Final Fantasy XVI is new-gen only. As producer Naoki Yoshida previously said, only the higher specs could handle the game's quick-paced real-time action (this is the first Final Fantasy without a command menu) and the constant switching between combat and cutscenes. While this all leaves me intrigued to actually try Square Enix's ambitious Game of Thrones-y experiment for myself, it does little to hide the elephant in the room of if and when the game will come to other platforms. Final Fantasy XVI releases on PS5 on June 22.