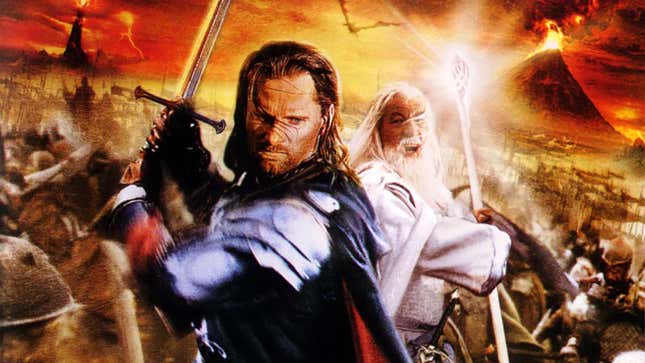 Embracer Group, a Swedish holding company, has spent the last several years buying up some of the best known studios from Gearbox (Borderlands) to Crystal Dynamics (Tomb Raider) and willing itself into becoming one of the biggest publishers in gaming. Now, after suddenly losing out on $2 billion in funding, the sprawling conglomerate says it plans to start canceling projects people care about, shutting some studios down, and laying off a ton of developers all while "exploiting" the hell out of its recently purchased Lord of the Rings license. Those are Embracer's words, not mine.

Grand Theft Auto 6 Comments: A Dramatic Reading
A surprise memo about corporate strategy might sound like inside-baseball, but the pivot will have massive consequences for studios and franchises fans care about. In an open letter to investors and his roughly 17,000 employees, Embracer CEO Lars Wingefors said that the company will begin a multi-phase restructuring to cut costs, increase profits, and consolidate its unwieldy empire. Former head of Saber Interactive, Matthew Karch, will now become Embracer's interim chief operations officer, while Phil Rogers, former head of Crystal Dynamics, will become its new chief strategy officer in an attempt to stabilize the financial fallout from a mysterious $2 billion partnership fell through last month.
Have a tip?
If you work at Embracer or one of its studios and want to speak confidentially about how the cuts will impact you and your team, don't hesitate to reach out at tips@kotaku.com. Signal and encrypted email available upon request.
"The reality is that the quicker we act, the sooner we emerge as a stronger company," Wingefors wrote. "The actions will include, but not be limited to, closing or divestments of some studios and the termination or pausing of some ongoing game development projects. It will also include decreased spending on non-development costs such as overhead and other operating expenses."

Read More: Tomb Raider's New Owners Have Been Snatching Up Old Series For Years Now
It's a wild heel turn for a company that, as recently as last year, was still spending a bonkers amount of money to buy new game studios and IP rights. The CEO promised no currently announced games like the much anticipated Warhammer 40K: Space Marine 2 and the beleaguered remake of Star Wars: Knights of the Old Republic would get cancelled. But staffs at the recently purchased studios have no such assurances, with Wingefors writing "I don't have all the answers to all questions" even as many now wait to be unceremoniously canned over the coming year.
More Lord of the Rings games are coming
One thing the CEO is sure of is that Embracer will double-down on its over $700 million purchase of the rights to J.R.R Tolkien's work last year. "We own Lord of the Rings, and we know we need to be exploiting Lord of the Rings in a very significant fashion and turn that into one of the biggest gaming franchises in the world," he said in a webcast elaborating on the news (via IGN). "That's obviously something we're going to be doing. That's a much better use of resources than some of the other projects that some of our teams have been working on."
While Lord of the Rings remains a beloved franchise among fans of high-fantasy, adaptations have been hit or miss. Amazon's Rings of Power series was super expensive and struggled to get anyone to watch, while a recent video game based around the tormented character of Gollum was panned as the worst game of 2023 by many critics. Amazon is also currently working on a new Lord of the Rings MMO, an ambitious but drought venture that will take years to bear out.
In the meantime, Crystal Dynamics put out a statement trying to reassure players that its collaborations with Microsoft's first-party studio The Initiative on a new espionage shooter Perfect Dark game and Amazon on a new Tomb Raider remain unchanged. What this means for popular series at other studios, like a reboot of stealth game Deus Ex at Eidos Montreal, remains to be seen. When Embracer began its acquisition spree it seemed like a savior of sorts for endangered studios. Now it's looking more like the Grim Reaper.