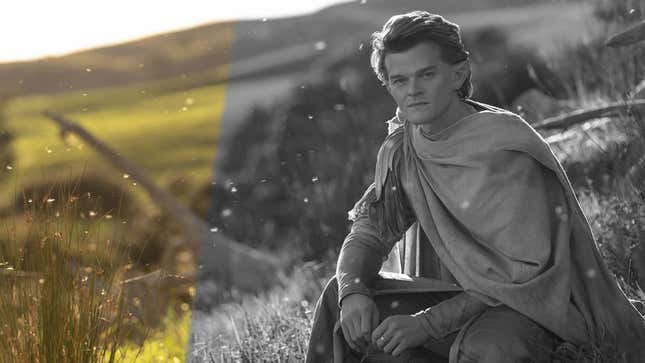 Last year's massively expensive Lord of the Rings show on Amazon, Rings of Power, had a lot of hype going into it. Yet after Amazon spent over $450 million on the lavish production, a report claims that fewer than half of the viewers who watched the first episode finished the entire series.
We Need To Talk About This John-Wick-But-It's-Cute-Girls Anime
Amazon Prime, like basically every other streaming service out there in 2023, is trying desperately to convince millions of people to watch the expensive content it keeps releasing. As competition in the streaming market grows, more content floods services, costs go up and subscription prices follow, it's becoming harder and harder to get people to sign up or watch anything. And a new report reveals that only 37 percent of viewers who watched one episode of Amazon's The Lord of the Rings: The Rings of Power—the most expensive series ever—stuck around to watch the rest of it. That's bad. But even worse when you realize the minimum stat Amazon wants for a show of that size is closer to 50 percent.

A report out April 3 from The Hollywood Reporter makes it clear that Amazon Prime's TV and movies studio is a giant, expensive mess. The report claims that Amazon Studios chief Jennifer Salke is quick to make big deals with big names in an effort to build up Amazon's talent pool. But many of these shows fail to deliver, like the $140 million Daisy Jones & The Six series. While it charted well, insiders told HR that it failed to be the "breakout hit" they wanted and its high price tag compared poorly to cheaper shows from Amazon and others that did better. Meanwhile, the report claims Salke chases after trends and Amazon is hungry for more "safe hits" like Jack Reacher.

"They don't learn from their mistakes," said one source, a showrunner who has experience working with the company. "[Amazon Studios execs go], 'We can't do any more deals like that.' You turn around and they're right back to—the impolite term is 'star-fucking.'"

Amazon relies too much on data, frustrating creators
Another nasty story from the report claims Amazon Studios relies too heavily on data and focus groups, leading to productions that focused on women or contained LGBTQ themes being put on the backburner. An example cited in the report is A League of Their Own, which struggled to get a season two and when it did, was only four episodes long.

"All this perpetuation of white guys with guns—it's a self-fulfilling prophecy," said one Amazon Studios vet. Another added: "Relying on data is soul crushing … There's never, 'I know the testing wasn't that great, but I believe in this.'"

But as Amazon productions underperform, shows like HBO's The Last of Us have seen their audiences grow with each episode. And Netflix still dominates the streaming charts, with The Hollywood Reporter pointing out Nielsen data from 2022 showed that all of the top 10 shows were from Netflix. The Boys, an adult superhero show on Amazon Prime, came in at 11th place. And the most expensive show ever made, Amazon's answer to Game of Thrones? Number 15.

The report further claims that people who have worked or currently work at Amazon Studios describe it as a confusing and frustrating place to work. A lot of this sounds eerily similar to what was reported by Bloomberg in 2021 about the mess that is Amazon Game Studios, with details like execs cutting big deals, spending tons of money on big names or big bets, ignoring the people who know better, and then cutting costs when shows flop or don't blow up right away.

While Amazon has a few shows and games that have now done well, it does seem like the company is burning a lot of money to keep coming up short compared to industry leaders like Valve, Netflix, Disney, and Epic. But who knows, maybe another $30 billion will help!