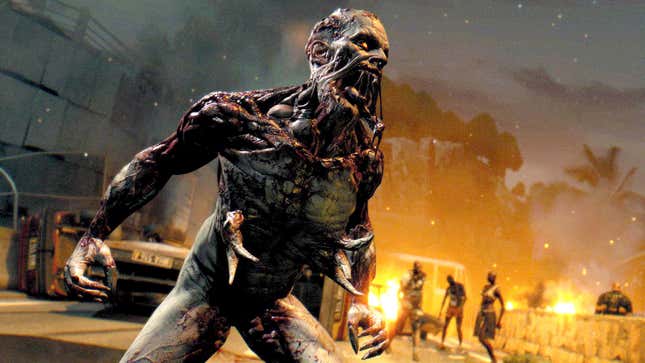 Dying Light rules. Techland's open-world RPG does an excellent job of instilling the fear a zombie virus can bring. With its smorgasbord of brain-eaters and limb-munchers, coupled with their heightened intensity and ferocity at night, Dying Light is one of those games that can leave a lasting impression on you, and it's free to download on the Epic Games Store now through April 13.
The Week In Games: Magical Parkour And Spooky Spaceships
Developed by OG Dead Island studio Techland, Dying Light is a 2015 action-adventure game with some zombie survivor horror elements. You play as Kyle Crane, an undercover agent adept at freerunning and parkour, who is tasked with infiltrating a quarantine zone tucked inside the fictional Middle-Eastern city of Harran. Now infested with fiends and ghouls thanks to a viral outbreak, it's up to Kyle, himself bitten by a zombie, to find a rogue political mastermind with some important data about the virus that could lead to a possible cure.
Read More: Dying Light: The Kotaku Review
Dying Light sounds mid but it's actually dope
OK, I know. The narrative sounds super mid, like all the other zombie stories that have flooded entertainment in the last decade or so. You're largely right in that the campaign, repetitive and predictable as it is, doesn't engender a lot of motivation for the character's actions. Kyle himself is a bit generic, lacking much of a personality outside of being the game's dedicated white savior. But if you're able to put the barely passable story aside, what you're met with is a robust action game that marries free-flowing parkour movement with the hefty satisfaction of first-person melee combat. It's the perfect amalgam between Days Gone, Far Cry, and Mirror's Edge. It's got co-op multiplayer so you can bludgeon zombies with your friends online. It features tons of DLC that added new story content and killing weapons to keep the zombie-slaying going. And it has a dynamic day-night cycle that directly influences how violent these braindead human gobblers can become, and this is why Dying Light is dope.
The best part of the Epic Games Store's Dying Light deal is that the digital PC marketplace is giving away the game's Enhanced Edition. This sort of "complete package" houses all of Dying Light's content, including the paid The Following expansion that added a damn buggy to run over zombies with, all for $0. You can't beat that price, especially for such a fantastic open-world game.
Read More: Tips For Playing Dying Light
Once you download the game it's yours to keep, which is pretty cool. And at approximately 20 hours in length if you main the story, it's a relatively short enough game to finish in a weekend or two before parkouring into Techland's even better sequel, Dying Light 2: Stay Human.
Here is the full list of games you can download for free from the Epic Games Store throughout this month:
Dying Light Enhanced Edition is available until April 13.
Shapez, a game where you build factories to automate the creation of complex shapes across an expanding map, is also available through April 13.
Mordhau, an online multiplayer medieval slasher similar to Chivalry 2 or For Honor, will be free to download from April 13 through 20.
Second Extinction, an online first-person shooter all about killing dinosaurs with your friends, is also free from April 13 through 20.