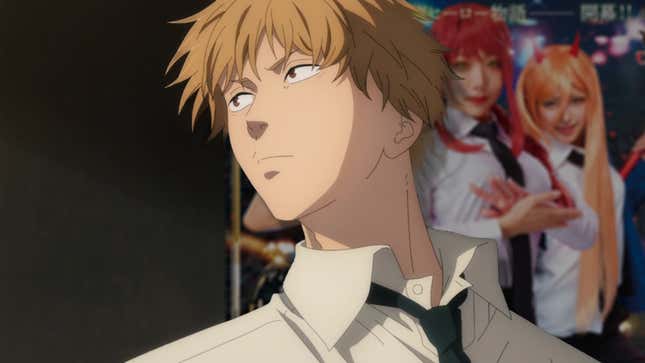 A live-action porn parody of Mappa's popular shonen anime, Chainsaw Man, may have outsold the original series on Blu-ray in Japan.
Dildo Man, a porn parody of Chainsaw Man by Japanese adult film production company Studio TMA, sold 8,600 Blu-ray copies in the first week after its April 28 release, according to Anime Explained. If the porn parody's reported Blu-ray sales on adult sites Studio TMA and Fanza are true, that means it sold nearly five times more Blu-rays than the actual Chainsaw Man anime which, according to Screen Rant, moved a mere 1,735 copies in its first week back in February. This 25-second trailer video for the parody is both safe for work and nightmare fuel.

Read More: Chainsaw Man's Bombastic, Gory First Episode Lives Up To The Hype
The Chainsaw Man porn parody is basically a live-action doujinshi
For those curious, Dildo Man is faithful to the source material in that the parody also follows a down-and-out young man who, after reviving from death thanks to his furry friend, comes under the employ of an organization that kills devils. However, the parody took some liberties in swapping out "Chinji's" iconic chainsaw head and arms with oversized dildos while he works under the "Bakima."

Seeing as how Chainsaw Man's actual protagonist Denji has already voiced that having sex is the next important milestone in his desperate existence, Studio TMA's porn parody isn't far off in terms of nailing his shamelessly simplistic character motivations. According to a Google translation of the parody's description, Chinji will follow "his desires, challenging the demon subjugation with impure motives." Narratively, the parody actually ventures "ahead of the anime" in featuring its own version of Reze, a mysterious character teased at the end of the anime's 12th episode.

Kotaku reached out to Studio TMA for comment.
The two-hour Dildo Man film is the 12th live-action anime porn parody from Studio TMA. The cosplay adult film production company also worked on feature-film-length parodies of other popular anime like Jujutsu Kaisen, Demon Slayer, and Makoto Shinkai's Weathering With You, to name a few.
Read More: Chainsaw Man Creator Asks Fans To Read Gay Porn, Fans Go Hell Yeah
Chainsaw Man's low Blu-ray sales might put season 2 in danger
While the validity of Dildo Man's Blu-ray sales may leave room for doubt, what isn't as up for debate is how poorly Chainsaw Man has been selling in Japan in comparison to other popular anime. As noted by Screen Rant, popular supernatural shonen anime Demon Slayer and Jujutsu Kaisen sold over 28,000 and 26,000 copies respectively within their first week, according to data from Oricon, a company which reports sales of music, movies, and other media in Japan (via Reddit). Oricon's data also indicates that even new anime series like Lycoris Recoil and Bocchi the Rock! outsold Chainsaw Man with over 23,000 and 21,000 respective sales. 

Although Blu-ray sales aren't the be-all-end-all for an anime's chances of getting renewed for another season, Chainsaw Man's lackluster sales do play a part in whether or not Mappa will continue working on the anime. Chainsaw Man's low sales aren't lost on anime studio Mappa's CEO, Manabu Ohtsuka.

In a recent interview with the Japanese news site Tokyo Keizai (translated by Anime News Network), Ohtsuka addressed the anime's financial performance, saying "As far as investment goes, one could say it was a complete success. However, it didn't have the same level of impact as Jujutsu Kaisen, which we worked on right before [Chainsaw Man]. This leaves me feeling unsatisfied."

According to Anime News Network, Mappa provided the entirety of Chainsaw Man's production costs, a rarity in the industry where typically a number of companies invest funds toward a work's production.

"To be perfectly honest, I wish [Chainsaw Man] could have reached more of the audience that pays for home video releases," Ohtsuka told Tokyo Keizai.

Here's hoping that, like porn searches popping off around the time of a video game's release, Dildo Man will lead to more Blu-ray sales for Chainsaw Man, because I need season 2 just as bad as I need Mappa to get on making a second season of Dorohedoro.