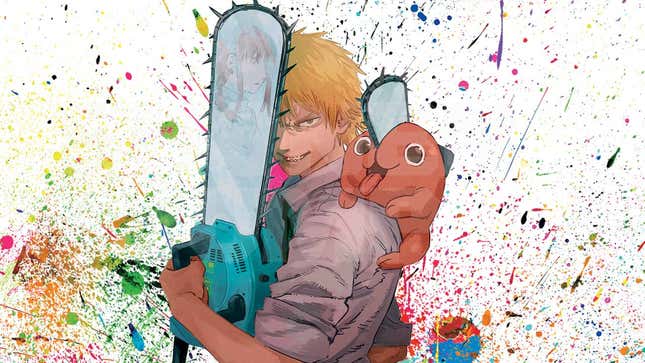 The more I learn about the creator of Chainsaw Man, the more I like his vibe. His art assistant just had their explicit work published in a manga anthology featuring gay men, and Tatsuki Fujimoto wants his fans to check it out.

This New Wholesome Anime Is Basically Gay Spy x Family
"This is a one-shot by the assistant who is helping with the background of Chainsaw Man," he wrote in Japanese, in a tweet which we've machine translated. "It's R18, but it's interesting, so please read it. Thank you."
What an icon. Not only is Fujimoto an ally to the gays, he's willing to use his platform to promote his subordinates' work. The magazine is a compilation of "boys love" comics which depict gay relationships between young men, and R-18 is a Japanese rating that indicates explicit content. You can preview a small sample of pages from the anthology by clicking the orange button on this site. I can't read Japanese, but the art is quite good. It also warms my heart that one of my favorite manga series is being illustrated by someone who enjoys gay yearning as much as I do.
Fans' responses have been hilarious. Some are tweeting like it's their sworn duty to read gay smut if their favorite manga artist tells them to. "SIR YES SIR FUJIMOTO SIR GLORY TO THE [BOYS' LOVE] EMPIRE," tweeted one fan. "Gonna read gay porn for the first time for Fujimoto," wrote another admirer who might be having their queer awakening soon.
Others are wondering why a third-grader is asking them to read pornographic manga. This joke is in reference to how Fujimoto is using Twitter to impersonate his nonexistent little sister (who happens to be a huge fan of Chainsaw Man).

If there's a lesson to be learned here, it's that artists are never too big or too respectable to uplift people who have supported them in their careers. Even if their work happens to be gay porn. May we all learn the humility and grace that Fujimoto has shown the manga community today.