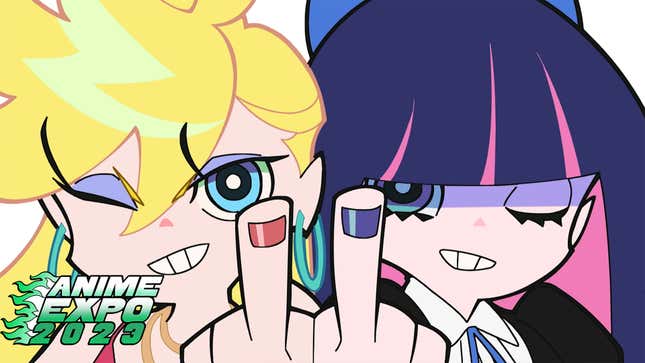 This week, Anime Expo had a bunch of announcements and trailers for visitors and folks at home to get excited about. In fact, the "largest celebration of Japanese pop culture in North America" almost had too much to reveal for attendees to take time and parse, especially if they were stuck in its long lines and crowded event spaces at the Los Angeles Convention Center this fourth of July weekend.
Disney's New Post-Apocalyptic Anime Proves The Mouse Has Good Taste
But fear not if some Anime Expo announcements flew under your radar, I've got you covered with a shortlist of the biggest and most surprising announcements to come from the anime convention outside of Kotaku's on-the-ground coverage and exclusive interviews.

---
Attack on Titan is ending soon, for real this time
Mappa has been dragging out Attack on Titan's finale for a while by splitting up its final season into parts for the better part of the last three years. While its manga counterpart concluded in April 2021, its anime, Attack on Titan Final Season, received a 16-episode part one and a 12-episode part two in 2021 and 2022 respectively. To make the nomenclature all the more confusing, the anime was then split a third time into Attack on Titan: The Final Chapters, which aimed to conclude the series in two extra-long episodes where the survey corps raced to stop protag-turned-antagonist Eren Jaeger from committing mass genocide. The first episode of The Final Chapters was released on Crunchyroll on March 4 and its final final final part is due later this year.

---
Baki Hanma Season 2 approaches
The second season of Netflix's high-octane martial arts anime, Baki Hanma, is coming to the streamer on July 26. Coming off the heels of the prison tournament arc of its first season, season two, known as the Pickle Wars Arc, features yet another machismo tournament arc with a major twist: a caveman with unspeakable physical prowess has been thawed from an ice glacier and is giving the show's best fighters, including Yujiro Hanma, a run for their money.

---
Beastars finale scheduled for 2024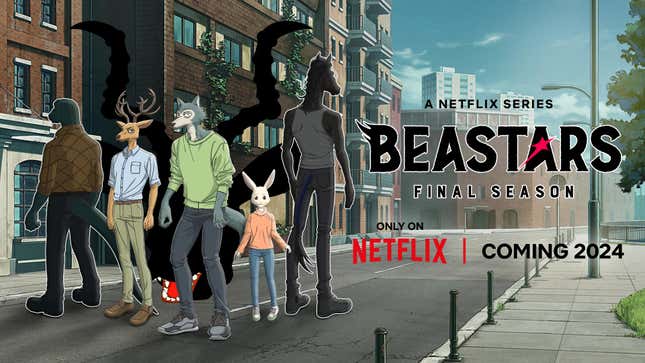 All good things must come to an end, and that includes Studio Orange and Netflix's popular anthropomorphic animal crime drama series, Beastars. Beastars follows Legoshi, a mild-mannered wolf trying to overcome his carnivorous instincts as he strikes up a romance with a bunny named Haru. All the while, Legoshi is hunting the culprit behind the murder of his classmates. Don't let the show's furry nature deter you from giving it a watch, there's a lot of chewy subject matter that make it an intriguing watch. The world of Beastars, much like our own, is a melting pot of cultures living under a classist society. In Beastars' case, classism manifests in the power struggle between carnivores and herbivores.

Read More: Introspective Furry Anime Are Having A Moment

---
Black Butler is back in 2024
No one could have predicted that we'd get a new season of Black Butler nine years divorced from the conclusion of its last season. Black Butler, originally animated by A-1 Pictures, follows an aristocrat named Ciel Phantomhive and his devilish butler Sebastian as they solve a slew of supernatural mysteries in Victorian-era England. The new season of Black Butler, which'll be animated by CloverWorks, will adapt even more chapters of the manga next year on Crunchyroll.

---
Bleach Thousand-Year Blood War Part Two is coming soon
The second part of the anime adaptation of Bleach's final manga arc will hit Hulu and Disney+ on July 8. The series will pit Ichigo Kurosaki against his long-time ally Uryu Ishida as the ongoing war between the Soul Reapers and the Quincy reaches new heights.

---
Delicious In Dungeon is coming to Netflix
Delicious in Dungeon by Trigger (Cyberpunk: Edgerunners) is a comedy fantasy anime about a group of adventurers who cook up whatever monsters they slay on their quest to defeat an all-powerful magician in an ever-changing dungeon. The anime, which uses rotoscope animation techniques to capture real-life chefs cooking scrumptious dishes, is slated to hit the streamer in January 2024.

---
Hell's Paradise is getting a second season
Coming off the finale of its first season, Hell's Paradise, an anime series about a group of criminals and samurai exploring a deadly island in search of the elixir of life, is getting a second season. No details have been revealed on when the second season of Hell's Paradise will be available and on what streaming platform.

---
Jujutsu Kaisen is getting a video game
One of the biggest surprises to come out of Anime Expo was the announcement that the popular supernatural anime, Jujutsu Kaisen, is getting its very own video game. Jujutsu Kaisen Cursed Clash is a 3D arena brawler where characters from the titular anime compete in flashy 2v2 team-based battles like the Naruto Ultimate Ninja Storm series. Jujutsu Kaisen Cursed Clash doesn't have a release date but it will be available on the PlayStation 4, PlayStation 5, Xbox One, Xbox Series X/S, Nintendo Switch, and PC.

---
Naruto is getting four new episodes and a new one-shot manga chapter
In tandem with the beloved shonen anime series, Naruto, getting four brand-new episodes in celebration of the series' 20th anniversary in Japan in September, creator Masashi Kishimoto will release a new one-shot manga about Minato Namikaze, Naruto's dad, on July 17. The special Minato one-shot manga comes following Naruto99, a popularity poll that ran from December 17, 2022 to January 31, 2023, where over 4.6 million fans voted for a character for Kishimoto to make a new chapter about. While the series' punching bag, Sakura Haruno, surprised fans by garnering nearly enough votes to get her own chapter, "the yellow flash" won out in the end.
---
New Panty & Stocking anime Info
During last year's Anime Expo, everyone's collective minds were blown by the announcement that a new Panty & Stocking with Garterbelt anime was on the horizon. This year, fans got to see a trailer that, although brief, showcased new character designs for its titular potty-mouthed angels as well as the new anime's name. It's New Panty and Stocking. Like literally. The anime follows the two sex-and-candy-obssessed angels as they battle a slew of demons in order to curry favor and get back into heaven.
News of a new Panty & Stocking project was teased way back in 2016 by Gainax West's official Twitter account with the added message that it would have nothing to do with pachinko. That news turned out to be a new exhibition for the series, according to Anime News Network. Now we know that Studio Trigger has acquired the rights to Panty & Stocking from Gainax. No release date has been announced.
---
One Piece live-action Netflix series will feature the original Japanese cast in dub
During Netflix's Japanese content panel at Anime Expo, the streamer announced that the upcoming One Piece live-action series will feature the original anime Straw Hats returning to dub their respective characters in the Japanese dub of the show. In a presentation video announcing the news, Mayumi Tanaka, longtime-voice actor for Monkey D. Luffy, met Inaki Godoy and christened the live-action actor with Luffy's hat like Shanks did in the anime saying, "I leave this hat with you. Bring it to me someday once you've become a great pirate." Yeah, I'm crying a normal amount of happy tears about this touching moment between Luffy's actors. Let's hope the charming live-action crew can break Netflix's live-action adaptation curse.

Read More: Every Upcoming Hollywood Anime Live-Action Adaptation That's Got Fans Stressed

---
Oshi no Ko is getting a second season
Oshi no Ko, a supernatural anime about a recently deceased and reincarnated doctor and his former patient's pursuit of revenge against a mysterious figure in the entertainment industry responsible for the death of their pop idol mother has been renewed for a second season on Hidive. I couldn't resist waiting for the announcement (the show is that good) and blitzed through reading every available chapter of the manga weeks before season two was announced. However, even knowing what's going to transpire in the upcoming season, I'm still excited to check out the anime's second season whenever it hits the streamer.

---
Undead Unluck is coming to Hulu
Undead Unluck, by David Production (JoJo's Bizarre Adventure), follows a shojo romance-loving girl named Fuuko Izumo who gives terrible luck to anyone who touches her, and a Frankenstein-esque immortal being named Andy who just wants to die. After discovering that a greater calamity befalls anyone who Fuuko has strong feelings for, Andy makes it his mission to have her fall in love with him. Undead Unluck will premiere on Hulu this October.

---
Wit Studio is in its collaboration era
When I asked George Wada, the president, CEO, and producer at Wit Studios what new shows fans should keep an eye out for at Anime Expo, he said there were a couple of things, including an adaptation of a manga that he wasn't quite ready to disclose yet "so please be patient and look forward to it." Turns out, we didn't have to wait long for some surprising new announcements because Wit is making a Suicide Squad Isekai anime featuring The Joker and Harley Quinn as well as a special collaboration between Street Fighter 6 and its upcoming original movie, Spy x Family: Code White. No release date for either Wit studio collaboration has been announced.

---
Zom 100: Bucket List of the Dead streaming info
Zom 100: Bucket List of the Dead, a zombie anime about a former "wage slave" and his companions who find a new lease on life by doing everything they couldn't do prior to the end of the world, will be streaming on Netflix, Hulu, and Crunchyroll on July 9. The English dub of the show will premiere on the streamers on August 6. This news is pretty monumental considering the anime streaming space is typically rife with exclusivity deals that force viewers to decide between a popular streamer to check out new shows like Zom. Now, viewers won't have to decide between paying for yet another streaming service to watch Zom because it's going to be on all the major streaming platforms, which is nice.

---
Kotaku is covering everything at Anime Expo 2023, including big announcements at panels and exclusive one-on-one interviews with the industry's biggest creators. Whether you're a seasoned anime fan or a newbie, you can keep up with all things Anime Expo 2023 here.