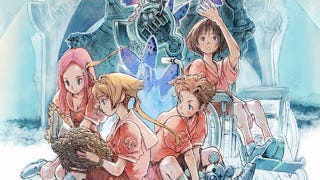 If you asked a bunch of RPG fans what franchises they'd like to see come back from the dead, you'd get a lot of answers, because there's nothing RPG fans like more than making lists of games they enjoyed when they were younger.
Granted, there are also a lot of dead RPGs. Gaming's past is littered with the corpses of series that have been ignored over the past few years, and the point of all those list-making exercises is often to evoke nostalgia-tinged reactions like "Oh wow, what ever happened to that?"
For your consideration, a list of names:
Chrono
SaGa
Breath of Fire
Mana
Mother
Lufia
Suikoden
Lunar
ActRaiser
What ever happened to them? It's been a long time since we've seen any games in those dormant franchises, and for many, the chances of a satisfying comeback are about the same as the chances of me writing this column every week.
By the way, I was on vacation for a while—which is why I've been neglecting you, my lovely Random Encounters readers—and last week I had the lovely opportunity to fly from Sydney to Los Angeles to New York City. See, you can't just get a flight from Australia to JFK, presumably because they need to stop and refuel along the way. So you travel ~15 hours on one flight, sizing up your fellow passengers to figure out who you'd eat first if you crashed on the island from LOST, and then you have a layover in LAX, which is basically the beta test of airports. Then you fly ~5 hours across the country, amusing yourself by watching the flight map for funny city names like Hooker Corner, Indiana, because you are twelve years old. Eventually you decide to rummage through your case of portable games, and you stumble upon an RPG that hooks you all over again.
It's time we talk about Final Fantasy Tactics. Ah, Final Fantasy Tactics. Released in 1998 by the entity once called Square, FFT became so iconic and popular that its creator Yasumi Matsuno just raised over $300,000 in two days because he wants to make a spiritual successor. Between the addictive grid-based combat system and the betrayal-stuffed Game of Thrones-ish story, FFT was a masterpiece, straight up.