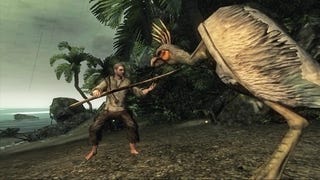 The people who showed me the upcoming Xbox 360 port of role-playing game Risen this week told me their game could be sped through in 30 hours, savored in 90. But to check it out early, I only had one.
It's a Lord of the Rings reunion on the PC and Xbox 360, as Andy Serkis and John Rhys Davies join the voice cast of Piranha Byte's next big role-playing game, Risen.
Piranha Bytes' latest RPG for the Xbox 360 and PC is gearing up for an October release, with three separate quality assurance teams assuring Risen's quality as we speak.
Piranha Byte's latest roleplaying game might not have made it to E3 this year, but that doesn't mean Risen can't join the asset explosion with a slew of new screenshots.
The team behind the Gothic series have picked a winning batch of screenshots to represent their upcoming PC and Xbox 360 role-playing game, Risen.
Publisher Deep Silver is teaming up partners GSC Game World, Ascaron Entertainment, and Game Life to form a rather impressive presence at the Games Convention 2008 next week. On the more hardcore side of things we'll see a definite slant towards PC gaming, with the adventure game Secret Files 2 - Puritas Cordis,…
A violent storm leaves you shipwrecked on a mysterious volcanic island, filled with ancient temple ruins and swarming with bizarre creatures. What do you do? This is the question asked by developer Piranha Bytes in their upcoming RPG project, Risen. Formerly known only as Project RPB, the team has just announced the…