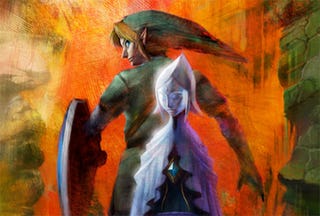 E3 2010 is almost ready for action. Are you ready for the action games of E3? These console and PC games, we think, are going to be the biggest video games of video gaming's big show.
Games that were announced a year ago at E3 2009 and games that were just announced this week will, we hope, be playable and full of the action we crave. Whether that means action RPGs like The Legend of Zelda or the "lightning bolt action" of Metal Gear Solid: Rising, we're looking forward to the following long list of action and adventure games, so that we can shoot, slice and whip our way to big bosses. (Kotaku's look at the shooters and platformers of E3 2010 are coming soon.)
Let's refer ourselves to the third-person and get some action, courtesy of these games that we sure hope will be at E3 2010 in some shape or form.
The Legend of Zelda (Wii)
Nintendo will be showing the still-unnamed next entry in the long-running Legend of Zelda series, a Wii game that it revealed only in concept art form at last year's E3 expo. The new Wii game will make use of the Wii MotionPlus controller add-on. Will it also make use of Nintendo's other new peripheral, the Wii Vitality Sensor, for a real shake-up? One thing's for sure, Nintendo's expecting it to be "perfect."