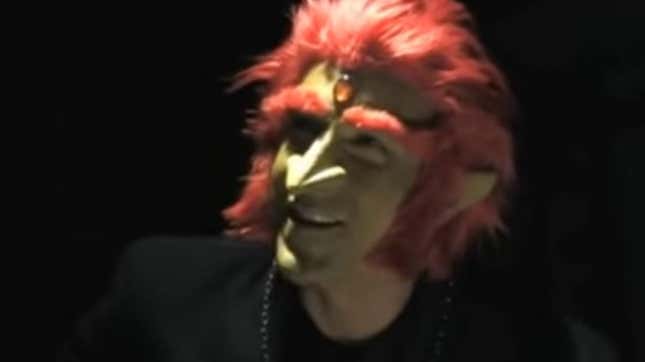 Matt Mercer, star of the Dungeons & Dragons show Critical Role and the voice behind dozens of animated and video game characters, officially confirmed his biggest gig yet: voicing hot Ganon in The Legend of Zelda: The Tears of the Kingdom.
Skyward Sword HD Revisits The Stumble That Led To Breath Of The Wild
The performer announced the news on Twitter after the game's final trailer broke the internet yesterday. "I just got the go-ahead from Nintendo, so I can FINALLY announce my absolute pleasure to be voicing Ganondorf in the Legend of #Zelda : #TearsoftheKingdom," he wrote. "An immense honor that I have thrown myself into doing justice."
This isn't the first time Mercer has taken on the role of Hyrule's big bad. A fan of The Legend of Zelda since childhood, he shared a picture of himself in full makeup while playing Ganandorf in his old web series There Will Be Brawl over a decade ago. "I genuinely cannot believe There Will Be Brawl was just a teaser for a mainline Zelda title," responded the Smash Bros. YouTuber Failboat.
Fans first got an inkling Mercer was involved when they first heard Ganon speak briefly back in Tears of the Kingdom's February teaser trailer. They collectively freaked out online, but the voice actor didn't tip his hand at the time, and the earlier trailer didn't actually show what Ganon would look like in the Breath of the Wild sequel. Now, fans have started freaking out all over again because Tears of the Kingdom's Ganon is ripped and hotter than ever before. Prior to its May 12 release at least, the demon king is stealing the show.
Prior to voicing Ganon, Mercer was best known as the dungeon master for the massively popular series Critical Role where voice actors get in character and play through elaborate D&D campaigns. He's also the voice behind Overwatch's Cole Cassidy, Persona 5's Yusuke Kitagawa, and a ton of other video game characters dating back to World of Warcraft's release in 2004.
Now he's taking the reins of Nintendo's newest sex symbol. "Many of you know the weight of expectation on my shoulders for this, and I hope to do you proud," he tweeted. Or in the words of Ganon: "Do not look away. You witness a king's revival…and the birth of his new world."