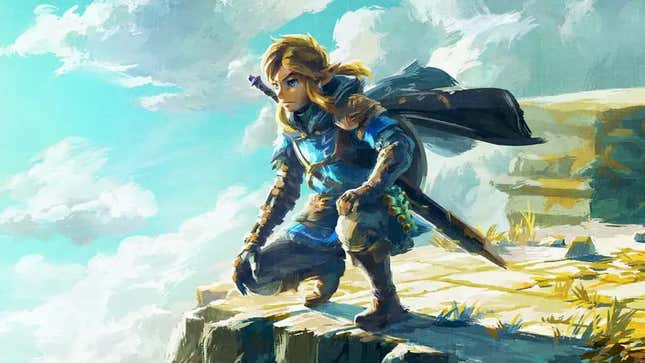 While The Legend Of Zelda: Tears Of The Kingdom is one of the most hotly-anticipated video game sequels of all time, that's not the only reason it's notable this week. It is also, sadly, the first Nintendo game to hit the $70 threshold.

What You Should Know About Mario Strikers' Big Free Update
While physical copies of the game have previously been available for preorder at places like GameStop for $60, Nintendo's press release for the game following tonight's Direct confirms that the cheapest version will be selling for $70. Preorders for the game at that $60 pricepoint suddenly stopped being accepted by retailers on Tuesday night.
The Legend of Zelda: Tears of the Kingdom: An epic adventure across the land and skies of Hyrule awaits. In this sequel to The Legend of Zelda: Breath of the Wild, you'll decide your own path through the sprawling landscapes of Hyrule and the mysterious islands floating in the vast skies above. Can you harness the power of Link's new abilities to fight back against the malevolent forces that threaten the kingdom? In addition to the standard version, which will be available at a suggested retail price of $69.99, The Legend of Zelda: Tears of the Kingdom Collector's Edition will release on launch day at a suggested retail price of $129.99, and includes a physical version of the game, an artbook with concept art, a Steelbook case, an Iconart steel poster and a set of four pin badges.
That would make it the first ever Nintendo game to hit that $70 threshold, at least as a recommended retail price, which is a bummer for us as consumers (since wages aren't increasing in line with the inflated cost of...everything) but also expected from a business (because all their costs have gone up). This is why it's called an inflation crisis, baby! (Note however that you can at least use Nintendo Switch Game Vouchers to soften the blow).
$70 games are becoming the norm for PS5 and Xbox
At least Nintendo can say they were one of the last to do it, after a number of major publishers—like Activision, Ubisoft and Warner Bros.—decided that 2022 was the year they could start charging $70 for games like Call of Duty Modern Warfare II and...Gotham Knights. Starfield, along with other first-party Microsoft games, will start costing $70 as well. Even indie games are starting to raise their prices right now.
Back in November, Nintendo responded to Sony's decision to increase the price of the PS5 by saying "it won't take such actions at this moment, but will continue monitoring situation and carefully consider (whether we need to take the option)."
While that Switch hardware increase hasn't materialised—yet—maybe recouping an extra $10 per copy of a game expected to sell millions will help Nintendo's bottom line, especially since the company just saw its share prices tumble after analysts predicted the aging Switch is "rushing to end of its lifecycle at a faster-than-expected pace," and that without news of replacement hardware on the horizon things might just get worse.
Meanwhile, competitors like Microsoft are making it sound like console price increases might not be totally out of the question sometime in the future.