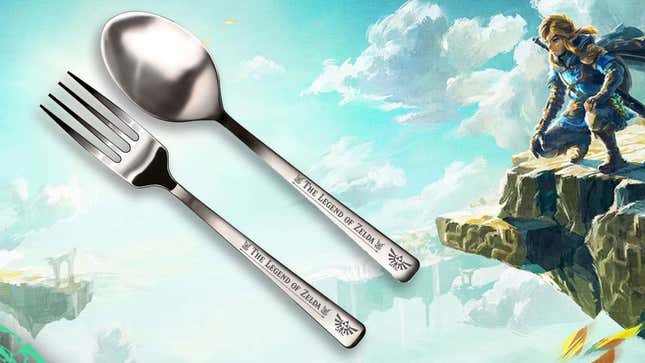 The Legend of Zelda: Tears of the Kingdom has been a long time coming and the hype is off the charts for the next entry in the Zelda franchise. Can people get more excited about this game? That depends: How exciting are branded forks and spoons to you?
What You Should Know About Mario Strikers' Big Free Update
The upcoming open-world Switch exclusive, The Legend of Zelda: Tears of the Kingdom, is likely going to end up being one of the biggest games of the year and probably one of the best-selling Switch games of all time when all is said and done. It's the sequel to 2017's critically acclaimed and beloved Breath of the Wild. Like that last game, Tears of the Kingdom will be set in a massive open world filled with places to explore, enemies to defeat, and secrets to uncover. To say people are thrilled for this next installment is an understatement. I'd also add that fans don't need more of a reason to buy this latest entry in the long-running Zelda franchise. And yet, Nintendo of Japan still wants to sweeten the deal with… fancy-looking forks and spoons?
As spotted by internet deals master Wario64 on Twitter, it appears that if you pre-order the standard edition of Tears of the Kingdom on Amazon in Japan you'll also get a spoon. And not just any spoon, but one with "The Legend of Zelda" stenciled on it. However, if you want both the spoon and the fork, it seems you'll need to pre-order the more expensive collector's edition. Metal ain't cheap in this economy, folks. You gotta pay extra for utensils.

Breath of the Wild included a cooking mini-game that ended up being one of the best bits of that game, inspiring players to recreate some of the delicious dishes that Link could create by tossing stuff in a pot and dancing for a few seconds. But, did Link have special forks and spoons to eat those meals? I don't think so. He should have pre-ordered Tears of the Kingdom in Japan.

And good news for all you spoon and fork lovin' Zelda fans in the United States: It appears you can order and import this Japan-only offer if you so desire. So put down your pitchfork and pick up your phone to place your order now while supplies last.

The Legend of Zelda: Tears of the Kingdom releases May 12 for Nintendo Switch and will cost $70 for the basic version, unless you use take advantage of the voucher program to save some money. That version over here doesn't come with a spoon. I'm so sorry.