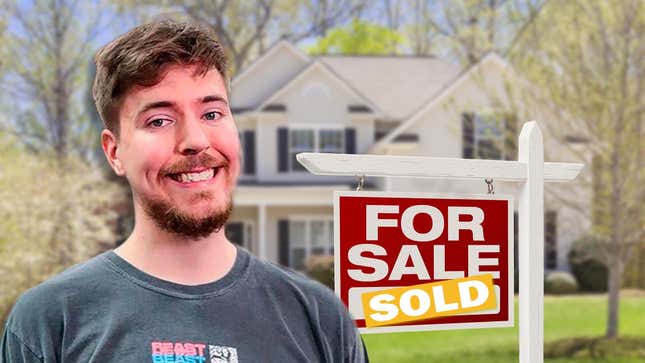 Mega YouTuber MrBeast, aka 25-year-old Jimmy Donaldson, has been casually buying extensive property in a North Carolina neighborhood for him, his family, and his employees to live in, the New York Post reports. In the last five years, Donaldson has already purchased five homes on the same Greenville street, most of them off-market, for an approximate total of $2 million.
This Adventure Game Wants You To Leave Society
Read More: MrBeast Is Selling Chocolate Now, But His Fans Keep Having To Clean Up Messes

"Donaldson purchased his own home when it went up for sale—and what would be his first on the street—in 2018 for about $320,000," The Post reports. He purchased his second property for $263,000 in 2020, then the remaining three for $1.45 million.

"There remains just one hold out house, which Donaldson's former neighbor attributed to the family likely wanting their kids to finish school," says The Post.

Like billionaire baby Elon Musk, who bought a hunk of a Texas town a few years ago and now keeps it covered in rocket launch metal and dirt, Donaldson is able to buy all this property because he has an offensive amount of money. His accumulated net worth is $54 million, The Post reports, and he's made it that far, in part, thanks to a 23-hour-long video of him counting to 100,000 that went viral in 2017, receiving over 28 million views to date.
As Donaldson continues to receive hundreds of millions of views on his expensive stunt videos where he does things like gift YouTubers a private jet, or pays for life-changing surgeries while sticking a camera in recipients' faces, spending $2 million on a North Carolina block is nothing.

And, anyway, Donaldson, like Musk, seems set on bringing back the company town, isolated neighborhoods in the late 19th century dedicated to industry where people probably cried and got addicted to opium. In 2023, hostility for workers is still obvious and open, but U.S. home ownership is steadily declining. At least, like they did 200 years ago, some people can rely on an unshaved 25-year-old to pay their medical bills and stuff them into a cul-de-sac. Capitalism is really epic for society.