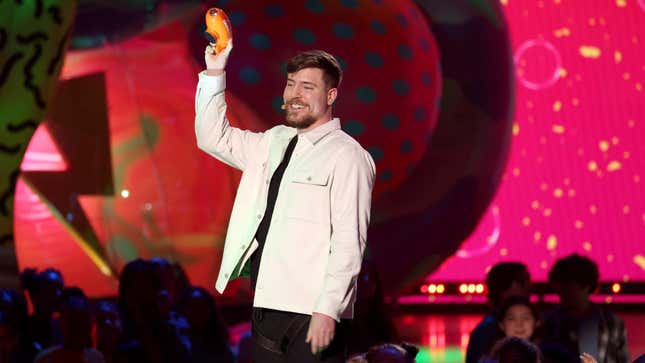 Jimmy "MrBeast" Donaldson, the biggest YouTuber in the world, recently asked fans to do him a favor: patrol the shelves of their local big box retailer to make sure his Feastables chocolate bars weren't a huge mess. Some appear to have happily enlisted in his effort, while others lampooned the brand activation psy-op and threatened a counter attack.
We Taste-Tested Cold Stone Creamery's Special Nintendo Flavors
"I need your help!" MrBeast tweeted on Friday. "Next time you see Feastables in Walmart (and soon to be new retailers) if you could clean up the presentation and make it look better that'd make me very happy. I'm building a team to do this routinely, just need help in the short term."
For the uninitiated, Feastables are a chocolate bar brand MrBeast launched in early 2022 that claims to "sustainably source" its cacao, offer "carbon-neutral checkout" via TerraCycle, and give cash donations to alleviate food insecurity in the U.S. "They don't taste bad," someone wrote on Reddit.
Some fans immediately went into cleanup mode, responding down thread with apparent pictures of themselves being very weird. "I was at walmart and saw your Chocolate bar," a self-described business mogul who goes by LoneWolf wrote on Twitter. "I fixed them properly.. Anything for the team . I even bought the chocolate sea salt one."
They were far from the only one. "got you covered in San Tan Valley, AZ Walmart," another person wrote. "It wasn't in terrible shape but the Walmart in marion IN is good for now," wrote a third. Others who weren't volunteering at the largest company in the world rushed to compliment MrBeast on his incredibly savvy business move. "Brilliant! Crowd sourcing the cleanup," tweeted "Reluctant Carnivore" ItsJustinRhodes. "I think creator brands will dominate shelf space this decade," tweeted YouTuber Muaaz.
But the backlash was swift. MrBeast's call to Feastables action soon became a battleground for anti-Beasters threatening to go out of their way to mess up the displays. Some mocked the rich YouTuber for asking fans to work for him for free, others joked about catching Feastable vandalists and tying them up Batman-style. A few simply felt the last gasp of humanity and hope flee their mortal coils in the face of such brazen late capitalism cringe.
MrBeast is no stranger to controversy. His most recent voyage through the briny waters of online discourse revolved around paying to give a thousand people cataract surgery to fix their eyesight. "1,000 Blind People See For The First Time," the ensuing video was called. Many applauded the apparent philanthropy as a case of clout-chasing gone good. Others criticized it as simply the latest stunt in a long running trend of MrBeast making content out of charity in a way that's both emotionally manipulative and papers over the systemic inequities that created the problems in the first place.
There aren't similar moral stakes in the Feastables campaign, but it similarly entails all the hallmarks of an internet sinkhole. Several things are wrong with this picture. Posting about it won't fix any of them. And yet the gravitational pull is so strong no one can resist engaging. Far from getting a few super fans to sort candy, that's the true power of the MrBeast brand.