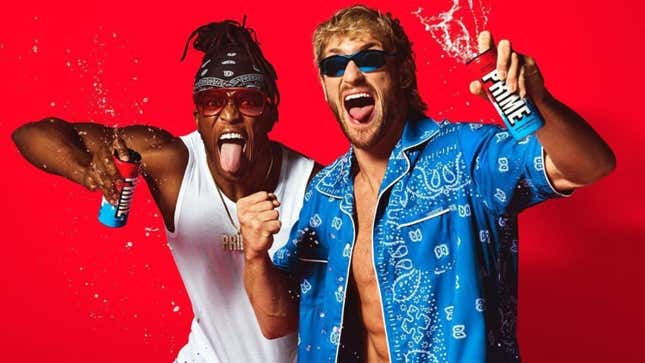 Controversial YouTuber Logan Paul is making headlines again, as Senate Majority Leader Chuck Schumer (D-NY) has called on The Food and Drug Administration to investigate the influencer's energy drink, Prime. Why? Well, there are concerns that it's potentially unsafe for kids, with one can containing the same amount of caffeine as six cans of Coke.
The Week In Games: What's Coming Out Beyond Cyberpunk 2077: Phantom Liberty
Schumer held a press conference on July 9, telling reporters that the influencer's energy drink "could endanger kids' health" due to its "absurd caffeine content and its marketing targeting kids on social media."
"One of the summer's hottest status symbols for kids is not an outfit, it's not a toy—it's a beverage," Schumer said. "But buyer and parents beware because it's a serious health concern for the kids it so feverishly targets. […] And the problem here is that the product has so much caffeine in it that it puts Red Bull to shame, but unlike Red Bull, [Prime] is specifically targeted—the advertising campaign is targeted at kids under 18. I'm releasing a letter [on July 9] asking The FDA to investigate Prime for number one, its claims; number two, it's marketing aimed at kids; and number three, its eye-popping caffeine content."

Introduced in January 2022, Prime is an energy drink founded and promoted by YouTubers Logan Paul and Olajide "KSI" Olatunji. According to The Associated Press, the energy drink was "an immediate sensation," leading to long lines at grocery stores, stock frequently selling out, and child resellers on school properties. Despite purporting zero sugar and being advertised as vegan, the energy drinks have extremely high levels of caffeine. As NBC News reports, one can of Prime has some 200 mg of the stimulant, which is the equivalent of nearly two cans of Red Bull. And according to The New York Times, the drinks began appearing in fourth- and fifth-grade lunchrooms in the Wilmington, Massachusetts public school district this past March. However, the district's health services coordinator Rebecca Brown said some schools ran into issues with student health and safety.
"We even had entrepreneurs in fourth and fifth grade who were bringing them to school and selling them to other kids at lunch," Brown said. "Not long after drinking them, the students showed up in the health office saying they didn't feel good and their hearts were racing."
This high caffeine content has prompted regulatory action from around the world. The drink has been banned in New Zealand, as well as in schools in a variety of countries like Australia, Canada, South Africa, the UK, and the U.S. Even celebrity chef Gordon Ramsay dragged Prime, giving it a "0/10" and saying it's like "swallowing perfume" in a January 2023 interview with the British radio show Heart UK.
In an email to Kotaku, a Prime representative said the brand's "top priority" is consumer safety, saying it's open to discussion with the FDA or other regulatory agencies in order to ensure the product is safe for consumption.
"Prime has two drinks on the market, Hydration and Energy," the representative said. "It's very important to make the distinction between the two products because they are vastly different. We started Prime last year with the launch of Hydration, a healthier sports drink alternative that comes in a bottle. Prime Energy, sold in a can, dropped in 2023 and contains a comparable amount of caffeine to other top-selling energy drinks, all falling within the legal limit of the countries it's sold in. It complied with all FDA guidelines before hitting the market and states clearly on the packaging, as well as in marketing materials, that it is an energy drink and is not made for anyone under the age of 18."
However, Schumer said there's little discernible difference between the marketing of the drinks, which has led parents to think they're buying juice for their kids, only to wind up with the elixir of jitters that is the main energy drink.
"A simple search on social media for Prime will generate an eye-popping amount of sponsored content, which is advertising," Schumer said. "This content and the claims made should be investigated, along with the ingredients and the caffeine content in the Prime energy drink."
Kotaku reached out to KSI, Paul, and Schumer for comment.
This comes nearly six months after Logan Paul was hit with a class-action lawsuit over his NFT game, CryptoZoo, which reportedly cost investors hundreds of thousands of dollars. Paul admitted that some of the developers on this game were "con men," but in the end, he didn't scam anyone and promised to repay the affected individuals—though it appears Paul hasn't done this yet.