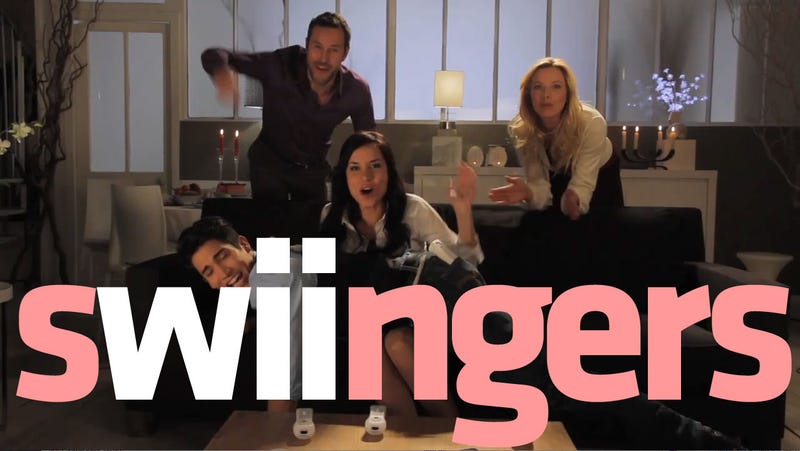 You've bowled. You've gotten fit. And now you can use your Nintendo Wii console to throw a swinger's party.
Nintendo's amazing machine is getting a new game called We Dare, a game for those in need of more action. We Dare enlists a group of merely good friends to become a group of friends who enjoy the benefits of spanking and kissing each other — when they aren't stripping for each other.
We Dare is an extraordinary and real (!) Wii game from French game publisher Ubisoft. We thought it was too sexy to be true, until we found, that, yes, Ubi is really going to sell what it calls a "Sexy Party Game."
Who needs Mario to get that lady you like hot and bothered? You've got these official features:
A WIDE AND VARIED RANGE OF 40 FUN AND FLIRTATIOUS GAMES
• Select the mood of your party: Enchanting, Persuasive, Naughty, Adventurous and Brainy.
• Dance to your favourite tunes from film and radio.
• Challenge your mates to a flirty strip-tease.
• Multiplayer up to 4 players.
• A HILARIOUS LIGHT-HEARTED ATMOSPHERE WITH CLEVER CHARACTERS, COY MINI-GAMES AND INTERNATIONALLY POPULAR MUSIC HITS: SUCH AS SEX BOMB, (I'VE HAD THE) TIME OF MY LIFE AND MANY OTHERS!
The game is also supposed to come out for the PlayStation 3, leaving only Xbox 360 fans without a 21st-century way to spin the bottle. The game's got a 2011 release date in Europe, and Ubisoft's American public relations team tells us it's Europe-only. What, Americans couldn't handle this?
[UPDATE] We've got more official details, including the sorry discovery that the PlayStation 3 version, which requires the wand-shaped Move controller is two-player only. Far less racy.
Choice quotes from the Amazon product description:
"Use the Wii-mote and PS3 Move controller in unbelievable ways, as you've never imagined before…"
"You can also use your Wii Balance Board for additional gameplay based on pure body mass... Perhaps shedding some clothes will even the playing field...it'll definitely make the party more interesting!
"Act out saucy suggestions that you hear through the Wii-mote speakers"
"The final climax of the game ends in a light hearted, match-making session. Which of your friends is your best match for Love or Friendship? How you play, how you answer questions, how well you perform, and finally, how you chose to create your avatar, will ultimately determine your perfect match."
We Dare [Ubisoft UK, via a million Tweets]