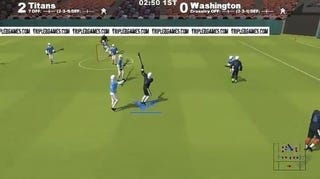 Great, Another sport I've never played in my life, but will have to review because, you know, I'm the sports guy. Here's lacrosse, game of Native Americans, Jim Brown, and every Volvo-driving L.L. Bean family between Charlottesville and Albany.
College LaCrosse 2010 is on the Xbox Live Indie Games channel and, yeah, yeah, my smirking lede aside, a team sports title on that service definitely deserves some recognition. It carries the sponsorship of Inside Lacrosse magazine, but it does not, however, feature actual universities - for obvious licensing reasons. But some team colors do look familiar. See the video below.
The game costs 800 Microsoft points. Unfortunately, the roster editor only allows you to change players' names to "Seth," "Trevor" or "Landon."*
College LaCrosse 2010 [Site]
* - This is not a fact, it is a cheap-shot.