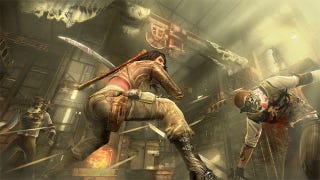 The revelation that Artificial Mind and Movement's Wet and Naughty Bear were both getting sequels—despite some mixed reception—was something of a surprise. Less surprising was developer A2M's name change to the less giggle-inducing Behaviour. Now it appears that Wet 2 may not happen after all.
Siliconera spotted potential evidence that shoot 'n' slice 'em up Wet 2 may have been unofficially canceled. Said cancellation was noted on a former Behaviour employee's LinkedIn profile, with a reported exodus from the Wet studio earlier this year noted as further proof. Another Behaviour programmer calls Wet 2 a "past project."
The first Wet was published by Bethesda Softworks, who picked up the title in the wake of Activision Blizzard's cherry-picking of the Sierra library. It may be notable for featuring the voice of Eliza Dushku as Rubi Malone or for being pretty decent.
Developer Behaviour hasn't made any of this cancellation business official just yet, nor has it responded to request for comment on the matter.

Did Behaviour Cancel Wet 2? [Siliconera]