No sooner does Disgaea 2: Dark Hero Days go out the door than NIS America has to send out another message concerning some alarming gamesave notices that players are getting. This time, they'll be rewarded for their needless anxiety.
Gamers were getting some confusing error messages regarding downloadable content, which is strange because the game released yesterday and DLC for it won't be available for two months. However strange, though, no one blows off a message like "If you save now, your save data will be saved in the state in which you cannot use the DLC."
NIS America put out a statement saying they've researched the problem and found that it's an erroneous message, which is supposed to appear if you are saving data with DLC involved, but your Memory Stick doesn't have the corresponding DLC package on it. "The message will appear regardless of whether or not the current saved data contains DLC. Our investigation has revealed that this message will not harm your game play experience with Disgaea 2: Dark Hero Days or any future Downloadable Content offerings."
As a token of their concern for gamers freaked out by these messages, NIS America says its first DLC package, scheduled for Nov. 25, will be free. "Because this message has caused our fans distress and confusion, we have decided to release our first Disgaea 2: Dark Hero Days Downloadable Content free of charge. The DLC content will include the lovely Disgaea 3 princess-to-the-rescue character, Sapphire, and is scheduled for availability on November 25th, 2009."
Awesome! Just keep in mind: "Until then, you will not be able to turn the message off."
G/O Media may get a commission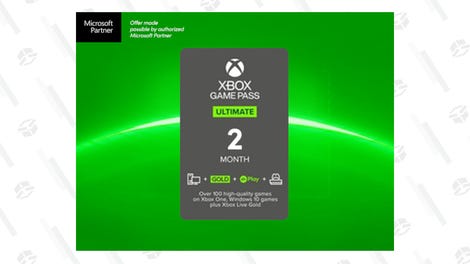 70% Off
Xbox Game Pass Ultimate Two-Month Subscription
NIS America Statement on Disgaea 2: Darkest of Days Error Notices PDF [NIS America, thanks Trygle]