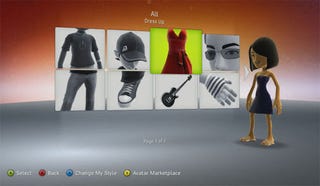 Get thee to an e-mail inbox, Kotaku reader, as invites for the "2009 Xbox Live Update Preview" have been going out to those who opted in to the early look at new changes to the Xbox 360 dashboard.
Those updates include things like Netflix movie party sessions, Games On Demand via Xbox Live, interface tweaks and an Avatar Marketplace, plus much, much more. That means Spartan and COG armor for your Avatar can't be far behind. The new updates roll out to the general public on August 11, but some lucky Xbox 360 owners will be buying new pretty "steampunk" outfits for their Avatars as of today.
Did you get in? Let us know in the comments, then let us know what you think about the changes.
Hats off to everyone who tipped us off about their invite!