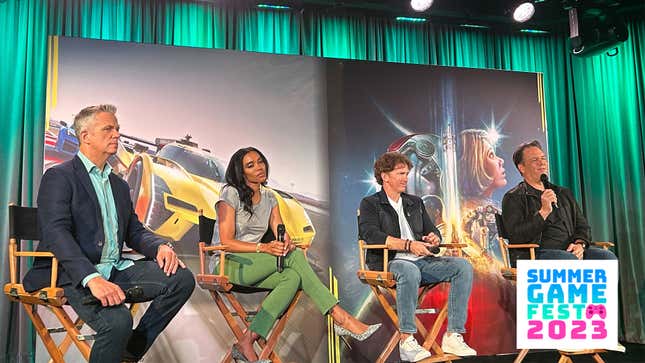 After showing a spate of blockbuster trailers and a lengthy look at Starfield during the Xbox Summer Showcase, top Xbox brass sat down with press to give a behind-closed-doors presentation on the future of gaming. During the Q&A (which was moderated by head of programming Tina Summerford and featured curated questions that the press did not contribute to) CEO Phil Spencer, head of Xbox Game Studios Matt Booty, head of Xbox's gaming ecosystem organization's Sarah Bond, and Bethesda's Todd Howard answered questions about upcoming space RPG Starfield, the Activision/Blizzard acquisition, and more.

Thank You, PS Plus, For Making My Backlog Even Bigger
First, Spencer discussed Xbox's financial success lately, where he noted that the company had double the revenue from the Xbox 360 era and stated Microsoft had the expectation it'll earn $1billion in PC revenue this year. Then Summerford got right into the Activision/Blizzard acquisition stuff, asking Spencer outright how the deal that would merge two of the biggest gaming companies in the world was going. Activision, known for series like Call of Duty and Overwatch, is currently trying to convince regulators that coming together with Microsoft, home of giants like Minecraft and Fallout, will actually benefit the consumer rather than creating a monopoly. While things have been looking up lately, there have been some hurdles along the way. Up until recently, it wasn't looking like the deal might go through in places like Europe.

Read More: The Reason Regulators Blocked Microsoft's Activision Deal Makes No Sense

After laughing it off and sarcastically thanking her for the question, Spencer said that it's been a "long journey." "I think there are 40 countries that have approved the deal. And there's two countries we're really focused on getting approval…We are very committed," Spencer said. "The work is ongoing, but we remain confident when we think about the work. We're out there to find solutions with the regulators that have questions…We did that with the European Commission. And I'm confident that we'll find solutions for the other areas as well."

Spencer also said that the acquisition would be beneficial for Xbox because of Activision/Blizzard's talent in the PC and mobile space.

Booty spoke to Xbox Game Studios' output, possibly due to ongoing skepticism about how many games the company is actually releasing nowadays. It doesn't help that one of the most recent big exclusives, Redfall, turned out to be a flop. But he suggested the team has "turned a corner" and that we can expect a ton of games from them in 2024, including some he hinted at have not be announced yet. "We had some gaps last year," he admitted.
Then Howard spoke a bit about Starfield, and after Spencer brought up the newly announced 1TB Xbox Series S, admitted that he plays the most on his Series S. Apparently, he has a Series X set up in his basement entertainment room with a 4K TV, but his kids hog it, so he instead plays in a different room on his Series S. "It looks fabulous," Howard insisted, speaking to the RPG's performance on the less powerful platform.
Then Sarah Bond threw out a pretty wild metric: "We have over 5,000 developers today across 100 countries developing games for Xbox." She also announced that Game Pass Ultimate for PC will come to Nvidia GeForce Now, though a brand-new Xbox blog post makes it clear to say that "select" games will be available.

Before ending the approximately thirty-minute long chat, Spencer said he's been playing a ton of Diablo IV, but that has "nothing to do with the acquisition."
---
Kotaku is covering everything Summer Game Fest, from the main show on Thursday to other events happening throughout the next week. Whether you're into larger-than-life triple-A games or intimate, offbeat indies, you can keep up with all things SGF here.