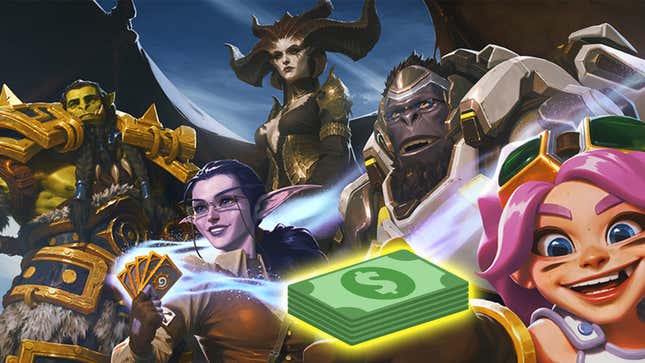 BlizzCon 2023, a massive celebration of Blizzard games like Overwatch, World of Warcraft, and Diablo is back in-person for the first time in four years, and offering two very different paths to enjoy the ceremonies. For the first time ever, you can watch the livestream in its entirety for free, but if you want to go in-person, it'll cost you quite a bit. The event, which will take place in Anaheim, California on November 3 and 4, will charge attendees $300 for General Admission, and a whopping $800 for something called a Portal Pass.
Overwatch 2's New Story Missions: Worth The Money?
Prior to the onset of the covid-19 pandemic (during which Blizzard held one online-only stream that was available to view for free), fans who did not purchase tickets to attend BlizzCon in-person would have to pay a premium to see all of the weekend's events streamed online. Though the opening ceremony and some esports competitions were available for free viewing, things like developer panels, cosplay contests, and the closing ceremony (which has historically featured bands like Metallica, Muse, and Blink-182), would cost you. In 2019, a virtual BlizzCon ticket cost $50. Now, they're free.
BlizzCon 2023 ticket price and info
But as you can see from the graphic below, in-person ticket prices have skyrocketed. Shared in the latest Blizzard news blog post, the graphic shows that the $300 General Admission ticket will give you "access to all halls," as well as early access to the BlizzCon Store a day before the event kicks off. You'll also get "exclusive Blizz-Con in-game goodies" and a BlizzCon-branded backpack. If you have $800 lying around for the Portal Pass (not including how much it'll cost you to get to and stay in Anaheim), you'll get a separate registration and security line, early entry into the convention lounge, and access to an "exclusive portal pass lounge."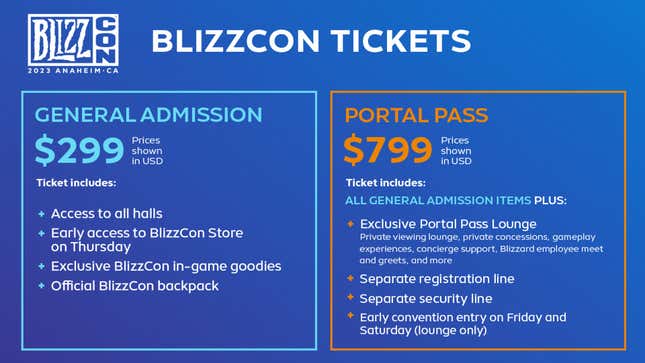 That access will let you chill in a private viewing lounge (I know that smell crazy), private concessions (note it doesn't say free), gameplay experiences (which will include "massive installations, art, and thematic spaces"), concierge support, and bizarrely, Blizzard employee meet and greets. If you're an Aaron Keller stan, it's time to cough up 800 big ones for your chance to share space with the Overwatch 2 game director. Maybe then you can ask him more about why they canned the promised PvE mode.
What's also more noteworthy is that the prices have gone up quite a bit from the last in-person BlizzCon. Back in 2019, the General Admission price was $229 and the Portal Pass cost $550—that's a 30% increase in GA price and a 45% increase in the Portal Pass cost. Kotaku reached out to Blizzard for comment.
After the new in-person prices began circulating on Twitter, fans swiftly responded, calling them "insane" and joking that they'd be paying that much for a single skin and a weapon charm. Others pointed out what else the cost of BlizzCon 2023 tickets could get you, like a few nights at Universal Studios' Halloween Horror Nights, or a couple of Disneyland tickets. But hey, BlizzCon will be full of characters, too!
Read More: The Xbox Trial That Could Change Everything: 7 Bombshell Reveals
Blizzard has been under fire for a lot of things within the last few years, including a sexual harassment lawsuit in the state of California, CEO Bobby Kotick then swearing there wasn't any harassment, Kotick stoking Chinese fear to help push through the ongoing Microsoft acquisition of ActiBlizz currently being blocked by the FTC, Kotick publicly calling out PlayStation, and Overwatch 2 development woes, among other things.
It's been so intense lately, in fact, that the company decided against holding an online version of BlizzCon last year to focus on "supporting our teams and progressing development of our games and experiences."
But hey, BlizzCon 2023 is back, and for the price of *checks notes* 15 premium Overwatch 2 skins, you can get a sweet backpack to hold all of your questions about labor ethics in. At least the BlizzCon skins are always very cool, so there is that.