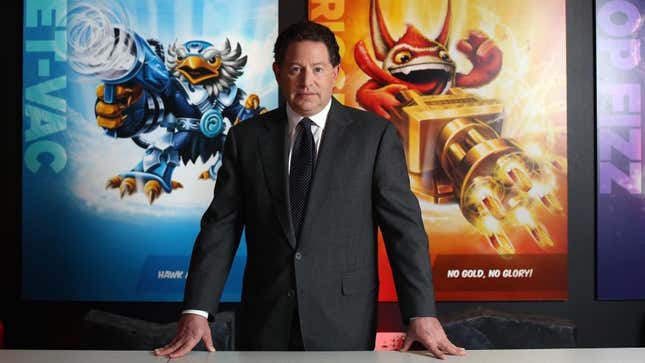 Ahead of the two-year anniversary of Activision Blizzard being on the receiving end of an unprecedented video game industry lawsuit accusing the publisher of widespread sexual harassment and discrimination, CEO Bobby Kotick has appeared on the cover of Variety to loudly proclaim the innocence of both himself and his corporation. "We've had every possible form of investigation done," he told the magazine. "And we did not have a systemic issue with harassment—ever."
This Mini Sega Arcade Cabinet Packed With Retro Games Would Make A Great Gift
Kotick's latest round of defense comes in the lead-up to the launch of Diablo IV, the likely imminent announcement of a new Call of Duty, and a historic $69 billion sale to Microsoft that's currently on life support after facing stiff resistance by antitrust regulators in the UK and United States. The Xbox maker approached the games publisher shortly after a bombshell Wall Street Journal exposé reported that management at the company had been aware of certain issues, including a couple of sexual assault lawsuits that were later settled, for years.
The longtime Activision executive told Variety that most of what people have read in the media is a mischaracterization. "Look, like any large company with 16,000 employees we're going to have some instances of workplace discrimination or harassment," he said. "We're fortunate over our 30 years it's been a very small number and it's something that we care deeply about."
Those claims come despite a landmark $18 million settlement with the Equal Employment Opportunity Commission over allegations of harassment and discrimination at Activision Blizzard, as well as a $35 million settlement with the Securities and Exchange Commission over allegedly failing to have the right controls and procedures in place to properly collect and analyze employee complaints of workplace misconduct that might require disclosures to investors.
Last June, Activision's Board of Directors released a report clearing executive management of any wrongdoing. "Contrary to many of the allegations, the Board and its external advisors have determined that there is no evidence to suggest that Activision Blizzard senior executives ever intentionally ignored or attempted to downplay the instances of gender harassment that occurred and were reported," it read.
"I wouldn't be sitting here talking to you if any of what you read in the inflammatory narrative was truthful," Kotick told Variety.
The magazine did not appear to press the executive on any of those claims, or try to reconcile them with the Wall Street Journal's reporting to the contrary. It did quote several industry peers in Hollywood and elsewhere who praised Kotick for his business acumen and management style. It also described one of the highest-compensated executives in gaming as "disarmingly funny and warm, with a Mickey Rooney-like air of can-do energy."
Instead of holding himself in any way accountable, as he had in the original aftermath of the lawsuit by Californai regulators that brought years of allegations to light, Kotick shifted blame to "outside forces," meaning unions like the Communications Workers of America (CWA). "But what we did have was a very aggressive labor movement working hard to try and destabilize the company," he said.
Several teams within Activision Blizzard have recently sought to unionize, and at least two—quality assurance testers at Call of Duty support studio Raven Software and at Diablo IV support studio Blizzard Albany—have succeeded. However, their attempts were initially met with stiff resistance by senior leaders, prompting the organizers to file a number of unfair labor charges for alleged attempts at union busting in the process.
Organizing efforts have since spread to other major gaming publishers, including Sega of America and Bethesda Software, the recently acquired Microsoft subsidiary preparing to ship Starfield later this year. Unlike Activision Blizzard, which it also hopes to still buy, Microsoft cut a deal with the CWA to remain neutral on unionization, paving the way for Bethesda's hundreds of QA workers to begin negotiating their first collective bargaining agreement.
Kotick told Variety that he's not like other anti-union CEOs because he's a member of SAG-AFTRA after appearing in Moneyball, and his mother was a teacher. "I have no aversion to a union," he said. "What I do have an aversion to is a union that doesn't play by the rules." The Call of Duty boss is set to earn hundreds of millions if the acquisition deal with Microsoft eventually goes through.