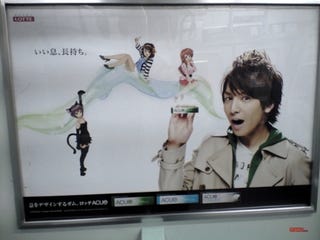 Not only does Lotte's gum make your breath minty fresh, it also turns all the ladies around you into moé anime characters. Chew on that.
Lotte's television ad campaign features the girls of manga/anime franchise Haruhi Suzumiya popping up all over the place. Wonder who the old lady turns into...
Light novel The Melancholy of Haruhi Suzumiya debuted back in 2003. It was written by Nagaru Tanigawa. Illustrator Noizi Ito designed the characters. Haruhi has been since adapted into anime and video games.
Haruhi gum! [Otaku2.com]