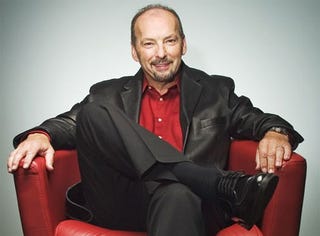 Now that former Xbox exec Peter Moore is well established at EA Sports, he's probably going to be willing to spill the beans on the oft-rumored motion controller planned for the Xbox 360. Right? Well...
Moore, when asked by GameTrailers TV's Geoff Keighley about his knowledge of Microsoft's plans—plans that may have formed during Moore's tenure at the company—he's pretty cagey. While Peter likely has full knowledge of the Xbox 360 maker's motion control goals, he's not going to burn any bridges.
"I think that, knowing Microsoft in particular, obviously, is that they are constantly thinking three to five years ahead of where consumer behavior is going to be," Moore says, carefully dodging anything resembling confirmation. He wagers that the Microsoft of right now is thinking about "how do people want to interact with their games and probably thinking about now how do we replicate motion control, but how we go one step further."
And what about those rumors of EA Sports' involvement in a mixed martial arts game, Peter? Feel like confirming that on cable?
"We keep a very close eye on it, but nothing to announce right now," Moore said, lauding THQ and Crave's work on current and past UFC games.
While motion controller on the Xbox 360 front has slowed, particularly as Microsoft's console sales increase, it's hard to imagine the chatter from years past was based on nothing but speculation. Especially when we consider the publicly anonymous sources of those rumors.
The more suspicious of us might think that some of that chatter was planted, to see how the Xbox 360 public would react to such an idea.