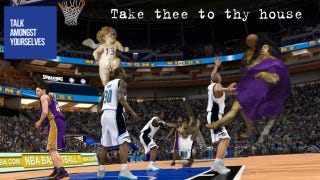 What manner of man is this who can summon up Talk Amongst Yourselves without flint or tinder ...
Some call me ... Owen ...
Great big thanks to Jimmy_Jazz for today's #TAYpic, interrupting what looks like an Orlando-L.A. Lakers game with some skywalking and cherubic trash-talking.
Want to be featured atop Talk Amongst Yourselves? Grab the base image here, freestyle it up and then post it to the #TAYpics thread. For best results, add funny and keep it 16x9 dimensions.
Now, talk amongst yourselves!