You shoulda seen me when I knocked Giny Russell outta the ring. Outta the goddamn ring. September 14, 1923. The same night that Firpo knocks Dempsey outta the ring. Who gets the publicity? Dempsey. Know why? Because he had COUPONS.
Hardware
• The new PS3 Slim 250GB "Father's Day Bundle" with the LittleBigPlanet Game of The Year edition and HDMI cable is $349.99 from Amazon. Release date is June 12. [Dealzon]
• Amazon has the new Wii bundles (black or white) with Sports Resort plus a $30 bonus credit for future purchases and a $5 Amazon MP3 credit for $199.99 [Dealzon]
• Amazon also has the original white Wii bundle for $159.98. Next best price is $166 plus tax. [Dealzon]
• Creative Labs Sound Blaster World of Warcraft USB Headset is $99.99 at Amazon. Best elsewhere is $120. [Dealzon]
G/O Media may get a commission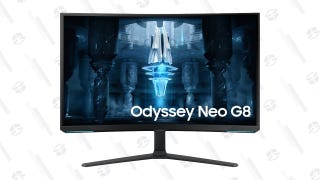 Samsung 32" Odyssey Neo G8 Curved Gaming Monitor
Software
• Split/Second for PS3 or Xbox 360 is $39.99, free ship from Amazon or BestBuy. Next best is $50 at GameStop after coupon. [Dealzon]
• Call of Duty: Modern Warfare 2 Hardened Edition (Xbox 360) is $39.99 with free shipping from Newegg [TechDealDigger]
• Walmart is offering pre-orders of three upcoming PS3 games with $50 eGift Card. Choose 3 games from Assassin's Creed: Brotherhood, Crackdown 2, Dead Rising 2, Final Fantasy XIV and more. [LogicBUY]
• Walmart also is offering pre-orders of three upcoming Xbox 360 games with the same $50 eGift Card. Choose 3 games from Mafia 2, Fallout: New Vegas, Crackdown 2, Dead Rising 2 and others [LogicBUY.]
• At GameStop, coupon code NEW15 gives 15 percent off new, in-stock titles when ordering online through GameStop, plus $10 coupon credits. Eligible titles include Super Street Fighter IV Dante's Inferno, MAG, Uncharted 2, Mass Effect 2, Splinter Cell Conviction, FIFA 2010 World Cup South Africa and others. [LogicBUY]
Digital Distribution:
These come courtesy of Deals4Downloads. You can see links to these and more at their roundup.
• On Direct2Drive, Jade Empire Special Edition is $14.95, Assassin's Creed II is $39.95 and Borderlands is $29.95.
• On Steam, Supreme Commander 2 is $10.99, the Neocore Complete Pack is $18.70 and Shattered Horizon is $9.99.
• On Impulse, Blood Bowl Dark Elves Edition is $19.99, Resident Evil 5 is $24.99, and the Indie Space Bundle is $27.45
• On GamersGate, Chronicles of Riddick: Assault on Dark Athena is $9.97, The Witcher: Enhanced Edition Director's Cut is $9.98, and Tom Clancy's Ghost Recon Advanced Warfighter and Advanced Warfighter 2 are both $4.97
• On Good Old Games, King's Bounty: The Legend is $9.99
• Via GameStop, Sid Meier's Civilization IV: The Complete Edition (PC and Mac) is $9.99
Kotaku thanks our coupon partners for providing these and other great deals. Be sure to bookmark and search their Kotaku hashtags (#techdealdigger, #dealzon, #logicbuy, #deals4downloads and #dealtaku) for updates throughout the week. And as always, smart gamers can find values any day of the week, so if you've run across a deal, share it with us in the comments.