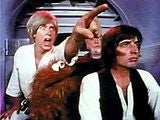 Looking at this week's deals, one gets the sense that retailers didn't move enough consoles or accessories, because they're still pushing them, all the way to Planet Basketball. Chewchilla, prepare for light speed, it's time for Weekend Coupons


Ham Salad Hardware
• 'Tis the season for big box retailers to get rid of console stock. Ending today is Best Buy's offer of $60 off any game or accessory, with the purchase of an Xbox 360 Arcade for $199.99. That "up to $60 off" sounds like it is applicable to one item only, you don't get another $20 off something else if you buy a $40 item with it. [Dealzon]
• Walmart's counter offer - any Xbox 360 console (Elite, Arcade, or refurbed 20GB Pro) gets you a $50 gift card that's good for online shopping only. The $50 credit is not eligible in stores. [Dealzon]
• Santa's elves must have made a truckload of the Xbox 360 Elite Pure/Lego Batman bundles, because they are still flogging them, this time through Dell for $269.99. That's $30 off the next lowest shipped price. [TechDealDigger]
• Also, if your Xbox 360 controller goes through batteries like crap through a goose, Amazon has Play and Charge kits but only in two flavors: Red or Black. Price comparisons show that's $8 better than the next best price elsewhere, and just $5 more than the best deal on a standard controller. [Dealzon]
Fluke Starbucker Software
• Another deal ending today is Amazon's $20 store credit offer, if you spend $80 or more from a select list of titles. There 84 Xbox 360 games to choose from, 83 PS3 and 116 on the Wii (Many PS2 and DS games also eligible.) Looks like they're getting rid of holiday stock, as none of the most recent blockbusters like Modern Warfare 2 or Assassin's Creed 2 are involved. But Borderlands, the God of War Collection and NCAA Football 10 are. The $20 comes back as a store credit good for your next purchase of a game only. [Dealzon]
• Remember also that the Toys R Us Buy-One-Get-Half-Off deal also is ongoing. It's applicable to all PS2, PS3, 360 and Wii games. Cheap Ass Gamer notes the deal applies to $19.99 DS titles and $19.99 game accessories.
• Steam's betting you have holiday cash to burn; they've put a bunch of stuff on sale. Today only, though, you can grab Command & Conquer: Red Alert 3 for $10.19; The Elder Scrolls II: Morrowind GOTY Edition for $4.99; Counter-Strike: Source for $4.99; Trine for $4.99 and Painkiller: Collectors Pack for $8.74. There'll be a new batch tomorrow at 10 a.m. U.S. Mountain time. Steam's also offering bundles from Eidos and Codemasters, plus titles by THQ, 2K, Ubi and Rockstar at steep discounts. Basically, anything that's not Call of Duty, you can expect it's probably on sale. [Steam]
As always, smart gamers can find values any day of the week, so if you've run across a deal, share it with us in the comments.