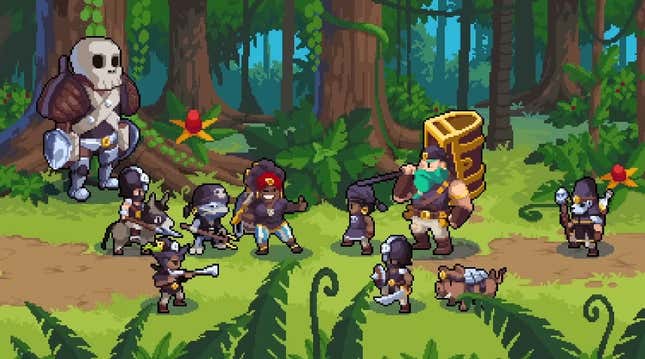 Wargroove was a very good 2019 strategy game that featured beautiful pixel art and played a lot like the Advance Wars games. Now it's getting a sequel.

The Top Ten Most Played Games On Steam Deck: December 2022 Edition
Indie studio Chucklefish announced Wargroove 2 on Wednesday by way of a short teaser trailer. While there's no release date yet, the new grid-based tactics game will feature additional commanders, factions, and battle mechanics. It will also support local and online co-op and multiplayer, and most importantly, feature a new roguelike mode.
Here's the trailer:
If you're unfamiliar with Wargroove, it's basically a fantasy spin on Advance Wars. You control a series of squads that move around a square grid like chess pieces, fighting enemy units and taking over buildings to gain resources that can be used to add more allies to the battlefield. "It looks great, it's not too hard to understand, and it's fun moment-to-moment," wrote Keza MacDonald in her review for Kotaku.
As someone who's been enjoying Hitman 3's dramatic transformation after experimenting with roguelike mechanics by way of its recent freelancer mode, I'm excited to see how a roguelike mode potentially adds new limitations and stakes to the solid bones of the first Wargroove's combat (the story, while fine in the original, wasn't really what I was there for).
This time around, Chucklefish is partnering with Robotality. It's unclear which studio is taking the lead on the project, since the former is also currently developing pirate-themed game Wayward Tide and magic school RPG Witchbrook. Robotality previously developed Pathway, a fun little strategy roguelite that mixes Indiana Jones and XCOM.
The original Wargroove came out before Nintendo announced the first and second Advance Wars were getting a remake collection. Despite Advance Wars 1+2: Re-Boot Camp coming this April after a year-long delay, there's still plenty of room for spiritual successors, not least of all because the Nintendo Switch remakes completely ditched the pixel art style that fans of the originals first fell in love with. Wargroove 2 can't come soon enough.