Friday at the Game Developers Conference found Kotaku's newshounds still hard at work in the city by the bay, getting their hands and eyes on everything being discussed and displayed at the year's first major games industry conference.
The conference is scheduled to last through tomorrow, but that won't be the end of news coming back from San Francisco, For now, here's a roundup of the past 24 hours at GDC 2011.
The Games
Dead Island snapped us to attention with a harrowing trailer showing a little girl, infected by zombies, flung to her death by her own father. But that family's story will not be in the game, the developer told Kotaku.
G/O Media may get a commission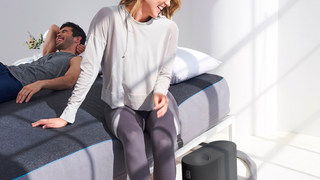 Eight Sleep Pod Cover
Earth Defense Force is gunning for a campy, B-movie feel in its tale of humans versus invading space-bugs, right down to the death and destruction. "Buildings crumble dynamically and more believably. Spectacularly? Not quite, as they fall apart with B-movie realism," writes Michael McWhertor in his impressions.
5th Cell is known as the studio behind the Scribblenauts franchise. Hybrid is anything but whimsical or light-hearted. Stephen Totilo got a look at a game that intends to change how cover-based shooters are played..
---
Video and Screens
Minecraft's Creator: No Sequel | Dark Souls | Previously: inFamous 2 | Resistance 3 | Battlefield 3 | The Legend of Zelda: Skyward Sword
---
GDC Days One and Two
Battlefield 3's Preview | Super Mario is teased for the 3DS | inFamous 2 will have a level editor | Dead Island draws on the best of a zombie decade | Resistance 3 is a more personal struggle | Our full Day One report | Day Two
Watch this space for more updates from the show today and beyond as Kotaku continues its ongoing coverage of the 2011 Game Developers Conference.