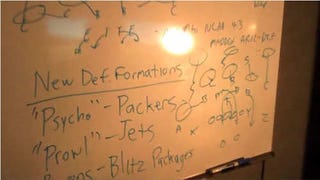 EA Sports published a behind-the-scenes video blog at halftime of Sunday's Super Bowl and, while it didn't discuss specific details or features of Madden NFL 11, some screengrabs show what the team could be pondering.
A forum post at ncaaStrategies has several frames, with annotations, showing whiteboards with the Madden gang's brainstorming. Fight songs such as "Fly, Eagles Fly" and "Hail to the Redskins," could be in the works. Also candidates for a 99 rating in speed appear to to be Philadelphia's DeSean Jackson, Tennessee's Chris Johnson, and Chicago's Devin Hester, with Johnson also a candidate for a 99 overall rating.
But what was most intriguing to me was the image inside the office of audio designer Ronnie Morales. His whiteboard says "Commentators: Cris [Collinsworth]" and "[Tom] Hammond," but Hammond's name is crossed out. Hammond's finished his second year as the play-by-play voice of the game and his call is the weakest of any video game sports commentator. He just doesn't sound lifelike at all. It's probably just Hammond being crossed off a to-do list, like new audio recording or something. But could it possibly mean a switch?
Madden NFL 11 Video Blog [ncaaStrategies via Pasta Padre]