Joe Waters, a senior development lead at Xbox's advanced technology group, unexpectedly passed away last night. An engineer who worked on everything from Counter-Strike for the original Xbox to this year's visually stunning Rise of the Tomb Raider, Waters contributed technical expertise for more than a decade.
News broke last night, as friends and colleagues remembered Waters on Twitter.
G/O Media may get a commission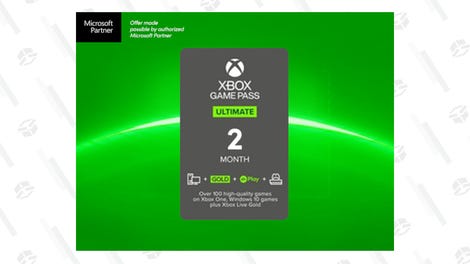 70% Off
Xbox Game Pass Ultimate Two-Month Subscription
Exact details of his passing have not been released.
Over his career, Waters bounced between various companies, including Ritual Entertainment, Nerve Software, Rogue Entertainment, Monolith, FASA Studio, and Hidden Path Entertainment. He eventually landed at 343 Industries, both to work on the future of Halo and help out with Bungie's final entry, Halo: Reach.
Waters eventually settled at the Xbox advanced technology group, part of an internal Microsoft team that was dispatched to various developers working on Xbox games to ensure they were getting everything out of the hardware.
Waters was last credited as senior software engineering lead on Rise of the Tomb Raider and given a "special thanks" in Halo 5: Guardians.

"We worked together on Halo 4," said Halo 5 designer (and my former colleague) David Ellis. "I'm completely shocked by his passing. Joe was full of passion in everything he did, whether work or fun. He was a kid at heart in the absolute best sense of the word. And a damn talented dev."
Based on the people I spoke to, Waters was known as a feisty but friendly person with a penchant for sticking out his middle finger whenever a photo was taken.
Unsurprisingly, that's Waters on the left. On the right is Microsoft community manager Colin Moore, who worked with Waters several times over the years.
Moore passed on the following remembrance of Waters:
"I first met Joe when he came up to Seattle to work on Counter-Strike on Xbox when he was on loan from Ritual. Being a tester, it was rare to talk directly with someone actually "making" the game you are working on, but Joe always was always willing to hear you out (though he might tell you after that you are crazy, BUT then explain why).

As someone who started at the bottom of the video game totem pole, Joe always treated me as member of the team and a level of respect rarely provided. It helped build my confidence and I will always thank him for that.

His impact on the Seattle Game Industry is monumental as he was the pioneer of Industry Night at the Garage. The connections, introductions, job offers, career advice, random encounters and more impacted so many people over 10 years or so it is hard to even put a number on it. You knew Industry Night started with a firm handshake from Joe and him selflessly asking you how you are doing and ending with the walk to Dunnes [a Seattle bar] before closing time.

I am happy to call Joe a colleague, but most importantly a friend. You will be greatly missed."
Our thoughts go out to everyone who knew Joe.
You can reach the author of this post at patrick.klepek@kotaku.com or on Twitter at @patrickklepek.