Hand it to EA Sports, its marketing of the "Heisman Challenge" mode of NCAA Football knows exactly what you'll do with it. Given the means to put an all time great on any college team, you're more apt to pervert history than recreate it. Ads have shown Eddie George in Michigan's winged helmet, Robert Griffin III tossing passes for TCU, and Tim Tebow, well, Tebowing for Georgia.

There are eight other Heisman winners available to anyone who buys the game, with another six available as downloadable content bonuses (for now). My copy of NCAA 13 arrived yesterday, and I immediately set to putting its roster of all-time greats in uniforms calculated to be the most nauseating and spiteful to their fans. Enjoy Choke on it!
Barry Sanders
Colorado
It'd be real easy to put Barry in Sooner crimson, and Oklahoma State indeed never beat Oklahoma (nor Nebraska) during Sanders' career in Stillwater. But talk to anyone from the old Big 8 and they'll tell you the most hated school of the late 1980s was Bill McCartney's arriviste Colorado Buffaloes, who barged in on the scene, made Nebraska a rivalry game by unilateral declaration (thanks to the Denver media), and won a National Championship on a fifth down against Missouri. Oklahoma State can respect Oklahoma and Nebraska, but not Colorado, a useless bunch of California ski bums who couldn't even get into UCLA.
G/O Media may get a commission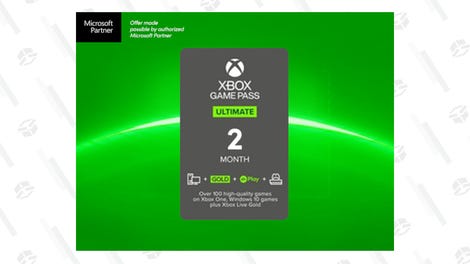 70% Off
Xbox Game Pass Ultimate Two-Month Subscription
Doug Flutie
West Virginia
Flutie wasn't recruited by any other Division I school, so there's no real what-if scenario to play there. It'd be so easy to stick him on Miami, the team he defeated with the spine-tingling Hail Mary to Gerard Phelan that practically shipped the Heisman to Chestnut Hill in 1984. Instead, I'll tweak BC by putting Flutie back in the pocket at West Fuckin' Virginia, whom the Eagles never defeated in four tries during Flutie's career.
Desmond Howard
Notre Dame
Everyone remembers the "Hello Heisman" end zone pose when Howard returned a punt 93 yards in Michigan's 31-3 shellacking of Ohio State in 1991. But Howard had a highlight-reel season all year long, in games more meaningful than that one. Remember his diving touchdown grab on 4th-and-1 to end a four-game losing skid to Lou Holtz's Notre Dame? Maybe Howard would have won the Heisman as a receiver in South Bend—Tim Brown did so in 1987. It's more fun to erase a magical Michigan moment.
Herschel Walker
Vanderbilt Commodes
I'm gonna tell you what, son, it's dang blasphemy to put one of the greatest Dawgs ever on some ol' sissy school like Vanderbilt. I'd druther you just shot me than have to look at that.
Charlie Ward
The U
As tempting as it would be to stick the quarterback from Florida State's breakthrough national championship season in some completely irrelevant backwater like Maryland or the Terrapins or College Park, nothing would piss off a Seminole more than to see Charlie Ward doing this.
Andre Ware
State
Houston, N.C. State punched you in the balls in 1983, now we're going to take away your Heisman Trophy, too, heh hah!
Marcus Allen
Syracuse
While USC lost twice in Allen's Heisman year of 1981 and Washington (with Steve Pelleur) won the Pac-10 that year, putting him on either Arizona or the Huskies, or the loathsome UCLA Bruins, would be so cliché. Instead, let's send Allen to Syracuse, alma mater of Al Davis, who called Allen "a cancer to the team" and ran him out of Oakland in the twilight of Allen's years with the Raida Organization.
Carson Palmer
Stanford
Would Carson Palmer have made Stanford a better team in 2002? Hell yes. Would J.J. Redick have made UNC better in his senior year? Of course. Doesn't mean anyone wants the bastard. Same principle holds here. Sending Palmer north deeply trolls the Pac-12's other blueblood, Stanford, which likes to think it isn't also a despised private school.