What makes this even better is that the video series started in 2014 and only wrapped up today.
It's Friday, which means news can be a little slow. While poking around Twitter for story ideas, I came across this stray tweet from Amnesia: The Dark Descent designer Thomas Grip. (You might know him more recently for SOMA.)
Wait, what?
Amnesia: The Dark Descent, the indie horror classic from...2010?
Frozen, the Disney animated film that's the bane of every parent since...2013?
Parle Productions has been releasing videos in a series called "Forgotten: A Disney Descent" since August 2014. I'm impressed (and terrified) that they've continued to make them, culminating in a "Let It Go" video loosely adapting the final sequences from the horror game. I've never used "loosely" more generally.
G/O Media may get a commission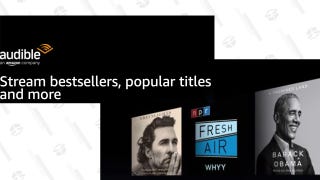 FREE
Audible Premium Plus 3-Month Free Trial
This might be my favorite sequence from the whole series, though.
This, of course, references one of the creepier story bits in Amnesia:
Video Credit: Xtreme Games
I'm not sure what to say. There isn't anything to say, really. Good job, Internet?
You can reach the author of this post at patrick.klepek@kotaku.com or on Twitter at @patrickklepek.