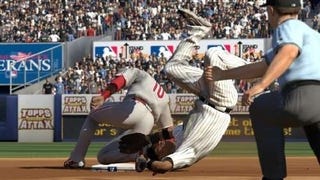 The mad geniuses at Operation Sports have put out a custom roster file that comprehensively updates one area that MLB 10: The Show cannot, according to its contract: Real minor league players.
Any minor leaguer who has never appeared in the majors is off limits to Sony San Diego (it has to do with group licensing of images with the Major League Baseball Players' Association.) So Washington's flamethrowing phenom Stephen Strasburg, drafted last year and presently in Double A, won't officially appear in this video game until he debuts for the Nationals.
You can circumvent that with the free, user-created Full Minors V. 1 roster from the Operation Sports community, currently available through SportsConnect on The Show. To get it, log in to SC, and check the Roster Vault for a file named OSFullMinors2010V.1, uploaded on April 6. Features include:
• Faces and features for the top five to 10 prospects for all franchises.
• AAA team lineups and rotations adjusted to reality "as best as possible."
• All real players.
• All players on an MLB roster now included.
• Lineups and rotations set as of Opening Day.
I went and pulled it down myself just now; I can't imagine playing franchise or season mode without it. And considering how deep the face-generating engine is in the game, the amount of work put into creating realistic appearances for top prospects deserves recognition. This is one of the finest custom roster files you'll find for any game.

MLB '10: The Show Rosters: OS Full Minors V.1 [Operation Sports]