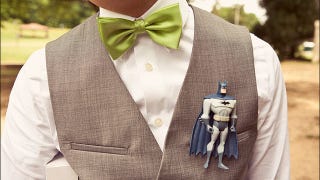 I got away with a lot at my wedding. Lord of the Rings music in church, Autobot cufflinks, a Han-and-Leia-topped cake. She's a good wife, my wife. But even she would have probably drawn the line at this.
Sadly.
Ben and Mimi's wedding saw Ben and his mates ditch their boutonnières (you know, flowers on suits) for... action figures. Iron Man, X-Men, Dragonball, there was even a Jesus there.
If that wasn't dorky/adorable enough, their "just married" sign was made out of... giant Scrabble letters. Awww.
Ben + Mimi {all that is crafty in Charlotte, NC} [Jagger Photography, via Fashionably Geek]