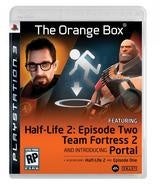 A story out there that three former top employees at Naughty Dog have joined Valve is true. It's also three years old.
The site PlayStation Lifestyle put up the item yesterday. Kotaku linked over to it earlier this morning. A quick check of their LinkedIn CVs notes these guys all joined Valve between 2006 and 2007, so it's no sign of any renewed interest by Valve in PS3 development.
The original post follows for context.
Three former top employees of the studio responsible for PlayStation3 exclusives Uncharted and Jak & Daxter have been hired away by Valve, perhaps indicating that publisher won't be developing "stepchild versions" for the PS3 anymore.
Naughty Dog has lost Vitaliy Genkin, Alex Vlachos, and Elan Ruskin to Valve. Valve's been critical of developing for the PS3 and open about their dissatisfaction with The Orange Box port, saying before they return to PS3 development, "we need to be able to support it in the right way." Three top guys from a Sony-owned studio would seem to provide that kind of support.

Valve Has Ex-Naughty Dog Employees On Their Side; PS3 Woes No More? [UPDATE] [PlayStation Lifestyle, thanks Vallanthaz]