QUOTE | "It's outright embarrassing how totally unrepresented many of the industry's biggest players are in the mobile arena." - Jeferson Valadares, Bandai Namco's head of mobile, talking about how traditional game publishers need to get busy making mobile games.
Elsewhere in the business of video games this past week ...
QUOTE | "It's when you start to cut the corners and try to take advantage of your audience... The morality of that is questionable, and I think parents and kids can see it." - Nerd Corps president Ken Faier, talking about transmedia properties like Slugterra that have games, TV shows, and toys, all aimed at kids.
QUOTE | "Xbox One sold more games throughout November and December in the U.S. than any other current-generation platform." - Statement from Microsoft, lauding the fact that the Xbox One was the best-selling console in the US for November and December, and not coincidentally announcing the Xbox One will again be $349 as it was during the last two months.
STAT | 11% – Growth in US digital game sales in December over last December, according to SuperData; mobile game revenues jumped 17% while digital console game sales rose 10%.
G/O Media may get a commission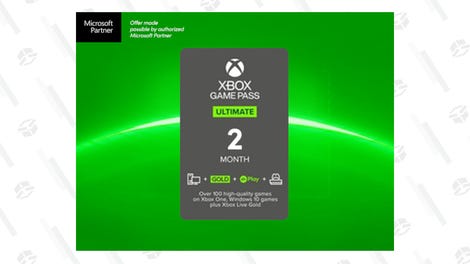 70% Off
Xbox Game Pass Ultimate Two-Month Subscription
STAT | 13% – Drop in US retail game software sales in December compared to last December, according to NPD; hardware sales rose 20%, and overall the month was down 1% compared to December 2013.
QUOTE | "The reported numbers are incorrect, exaggerated, and we did not get rid of entire engineering teams." - Kixeye CEO Will Harbin, responding to reports of 25% staff cuts at the company.
STAT | 94.4% – Amount that sales of PS4 and Xbox One software increased in the nine-week holiday period at GameStop over last year, according to the company; despite that, the company reported a 6.7% drop in global sales due to exchange rate changes.
QUOTE | "I think it's pretty easy to imagine that in the future we will have something that we can wear." - Facebook CEO Mark Zuckerberg, talking about VR and acknowledging that current hardware (like the Oculus VR) is "very, very rough."
STAT | 30 million – Number of downloads so far for Minecraft: Pocket Edition, which sells for $6.99, according to Mojang; the PC/Mac edition has sold more than 18 million copies, and last Saturday the game had 1.4 million concurrent players.
STAT | 29% – Amount of game developers who made the bulk of their sales directly from consumers, according to the latest State of the Industry survey by GDC; only 13% saw the majority of sales from retail, and 21% said micro-transactions were their major revenue source.
STAT | $5.8 million – Amount premium mobile game Monument Valley has earned through sales with development costs of $1.3 million, according to developer Ustwo Games; the game is installed on over 10 million devices.