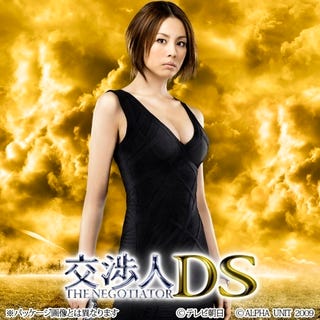 That's Ryoko Yonekura, big-time Japanese celebrity and actress. Later this month, she's starring as an elite detective in TV drama The Negotiator 2.
And that show is being made into a Nintendo DS game. Unlike American TV programs, Japanese TV dramas typically tend to run only a season. Obviously, since this is The Negotiator 2, the drama has already had a previous installment.
This go round has Yonekura sporting a low-cut black top and a black gun belt strapped to her thigh as she negotiates with baddies.
"This drama has got impact," says Yonekura. "It's not even like a Japanese drama." Okay, then! In the last couple of years, foreign TV shows like 24 and Lost have gained a large following in Japan because of their high production valves, which dwarf typical J-dramas.
The Negotiator 2 airs starting October 22, and the DS game will be out this December.
Ryoko Yonekura's 'Negotiator' works her way onto Nintendo DS [Japan Today]