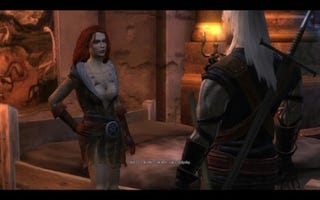 You can take the boobs out of million selling computer title The Witcher, but can you take The Witcher out of the boobs?
Polish developer CDProjekt has announced The Witcher: Enhanced Edition Director's Cut for North American gamers as a free patch. This is basically the nudity-enhanced European version of the title.
Back in March 2008, CD Projekt boss Michal Kicinski explained: "We just want to let mature gamers — the audience we created the game for — play the game they want to play. At 18 years of age, you can walk into a store in the US and buy movies, magazines, etc. that have much more objectionable content than what you can see in The Witcher."
The Director's Cut patch will include the recent 1.5 patch and will also be a standalone available on TheWitcher.com, Steam, Impulse and Direct2Drive. Launch date TBA.
The Witcher Nudity Restored with Director's Cut [Shacknews]