The weekend's competitive gaming starts with a card game inspired by a Polish fantasy series and ends with two people calling last-minute plays in a virtual recreation of NFL football. Aren't esports great?

Below you'll find where and when you can catch all the weekend's biggest events in competitive gaming. Let us know what you'll be watching in the comments or if you think there's something we might have missed.
League of Legends

The Mid-Season Invitational has shown once again just why SK Telecom T1 are the best team in the world, with four of its players in the top five stats-wise and the only team to have not lost a game thus far in the group stage.
But today, both Flash Wolves and Team Solo Mid will have the opportunity to make them drop one, with the former match-up beginning at 4:00PM EDT and the latter taking place at 6:00PM. Matches will take place on Sunday at the same times, going from 2:00PM EDT to 7:00PM EDT.
You can see a complete schedule here and watch each match live in the stream embedded below.
Madden 17
The $500,000 Madden Championship comes to a head this weekend with the eight players remaining after months of trading touchdowns putting it on the line this Sunday beginning at 9PM EDT. The conclusion of the tournament will be streamed live here, with the remaining matches also airing live on the NFL Network.
G/O Media may get a commission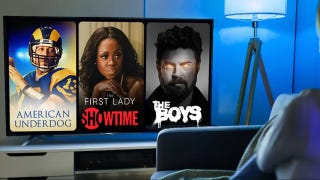 UNDER $1
99¢ Prime Video Channels
Hearthstone
There's so much Hearthstone happening this weekend it's a little hard to keep track of. First there's the continuation of the China vs Europe 2017 tournament continues which wrap up Sunday with the semifinals at 5:00AM EDT followed by the grand finals at 8:00AM. That $200,000 prize pool event will feature Russia's Pavel playing for a spot in the finals in the second semifinal of the day at 6:30AM. You can stream those games here.
Then there's the the Japan Major with playoffs beginning at 12:00AM EDT tonight and going through the morning. You can watch that tournament here.
Meanwhile you can stream the StarSeries Season 3 league here, with matches starting today at 12:00PM EDT and again on Sunday at the same time.
Street Fighter V
It's a busy weekend in the world of Street Fighter with the Capcom Pro Tour matches taking place online and Battle Arena unfolding in Australia.
Pools for Battle Arena will conlcude top 8 play at 1:00AM EDT Sunday morning while North American top 8 play for the Pro Tour will start today at 3:00PM EDT, followed later by the West coast top 8 at 7:00PM EDT. You can watch all of those matches here.
Meanwhile, top players Nuckledu, Justin Wong, and Smug will be taking on challengers at the Compete HQ today starting at 2:00PM EDT.
Dota 2

Qualifying for Epicenter 2017 in Moscow continues this weekend with Natus Vincere playing Vega Squadron at 1:00PM EDT today, followed by Team NP vs. SG e-sports at 7:00PM and Team Faceless vs. Clutch Gamers at 3:00AM EDT on Sunday. You can find a list of teams and times here, while the matches will be streamed live here.
Then there's DreamLeague Season 7 with Team Liquid vs. Mouseesports at 12:30PM EDT followed by Team Liquid vs. Team Empire at 3:00PM. You can watch those matches here.
Heroes of the Storm
The regular season concludes this weekend in the world of Blizzard's moba with Tricked Esport vs. Team Dignitas first at 12:00PM EDT in Europe, while things in North America will start with B-Step playing Tempo Storm at 5:00PM EDT.
Those games will be streamed live here.
Gwent
Everyone's favorite Witcher card game gets down to business this weekend with the conclusion of the Challenger Finals. The tournament began earlier this morning, with matches for the $60,000 first-place prize tournament streaming live here.
Call of Duty: Infinite Warfare
The Call of Duty Pro League continues this week with Red Reserve and Enigma6 kicking things off at 2:00PM EDT today. Games will go until around 8:00PM tonight. You can catch up on the standings and schedule here, and watch all of the games here.
Halo 5
The Championship Series travels to Daytona this weekend for a tournament that began yesterday and will pick back up today with free-for-all play followed by the Championship bracket later on.
You can watch all of the matches live right here.
Smash Bros.
Don't fret, ahead of the next 2GGC event there's this weekend's Royal Flush tournament in Atlantic City, with Melee top 8 taking place on Sunday at 6:00PM EDT, preceded by Wii U top 8 at 1:00PM. You can find a full schedule here, and stream the matches live here.
Brawlhalla
The party-brawler inspired by Smash Bros. host's its spring tournament this weekend with matches happening in both Europe and North America. You can stream all of them right here, with play across the Atlantic already underway, and matches state-side beginning at 12:00PM EDT today.