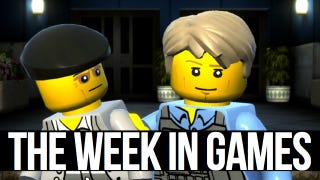 God of War got its prequel last week; Gears of War gets one Tuesday. We've also been charmed by LEGO City: Undercover on Wii U, available on Monday.
Monday
• LEGO City: Undercover (Wii U)
Tuesday
• Gears of War: Judgment (360)
• The Walking Dead: Survival Instinct (360, PS3, Wii U, PC)
• Assassin's Creed III: The Tyranny of King Washington: The Infamy (PC, PS3, 360)
• The Croods: Prehistoric Party! (Wii, Wii U, DS, 3DS)
• Need for Speed: Most Wanted (Wii U)
• Monster Hunter 3 Ultimate (Wii U, 3DS)
• Dead or Alive 5 + (Vita)
• Jewel Master: Egypt 2 HD (3DS)
• Impire: Black and White Demons (PC DLC)
• Impire: Creatures of the Night (PC DLC)
Wednesday
• Alien Spidy (PC)
• Giana Sisters: Twisted Dreams (XBLA)
Thursday
• Trials Evolution: Gold Edition (PC)
• Hyperdimension Neptunia Victory (PS3)
Friday
• Resident Evil 6 (PC)
---
Follow Dealzon on Twitter.