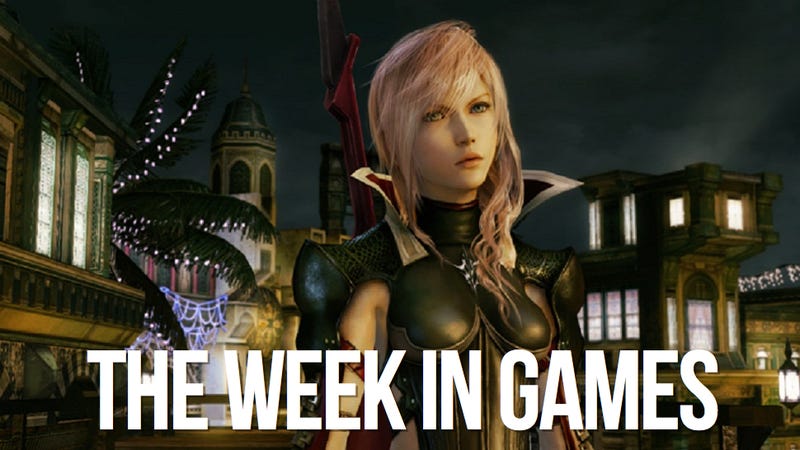 The week's big new packaged release is Lightning Returns: Final Fantasy XIII, with a couple of bundles and re-releases arriving with it on Tuesday. The MMO World of Tanks fully launches on Xbox 360 on Wednesday, and The Last of Us gets its prequel, Left Behind, on Valentine's Day. Here's the week in games:
---
Tuesday, Feb. 11:
Lightning Returns: Final Fantasy XIII (360, PS3)
Danganronpa: Trigger Happy Havoc (Vita)
The Elder Scrolls V: Skyrim and BioShock Infinite Bundle (360, PS3)
Borderlands 2 and Dishonored Bundle (360, PS3)
Far Cry Compilation (PS3)
Far Cry Classic (XBLA, PSN)
Toukiden: The Age of Demons (PSP, Vita)
One Piece: Romance Dawn (3DS)
---
Wednesday, Feb. 12:
World of Tanks (360)
Metal Slug 3 (PC)
Civilization V: The Complete Edition (PC)
Witcher 2: Assassins of Kings Silver Edition (360)
---
Friday, Feb. 14:
The Last of Us: Left Behind (PSN)
---
Recently Released and/or Reviewed:
---
Coming Soon:
Feb. 18: Plants vs. Zombies: Garden Warfare. Feb. 21: Donkey Kong Country: Tropical Freeze. Feb. 25: Castlevania: Lords of Shadow; Rayman Legends; Tales of Symphonia Chronicles; Thief. Feb. 28: Professor Layton and the Azran Legacy. March 4: South Park: The Stick of Truth
---
Sources: Amazon; Steam; GameStop
To contact the author of this post, write to owen@kotaku.com or find him on Twitter @owengood.